How To Fix Windows 10 Activation Error 0x803f7001
8 min read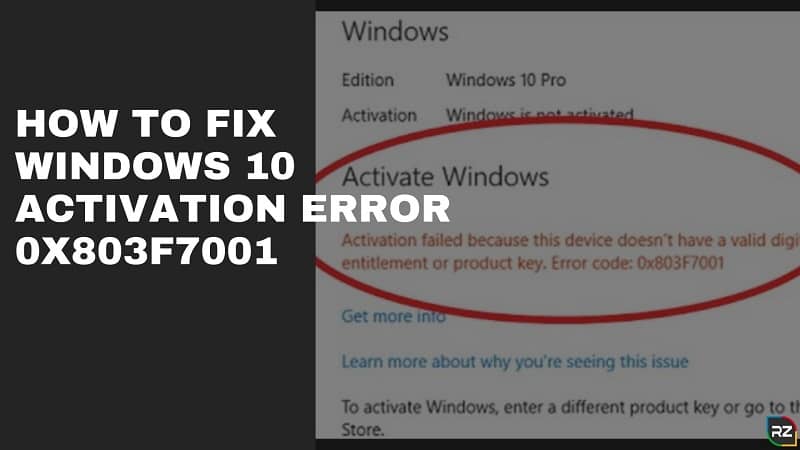 Are you often troubled by the activation error 0x803F7001 on Windows 10? Has the struggle to find solutions on how to fix Windows 10 activation error 0x803F7001 unnerved you?
Then don't stress it out, pal. You are just at the right place as here we are gonna give you some mind-blowing and proven working solutions on how to fix Win 10 activation 0x803F7001. Solutions are also working for other associated issues like, Activate Windows 10 Error or Win 10 Activation 0x803f7001 or Unable To Activate Windows 10.
Windows is undoubtedly one of the best products of the multinational technology company, Microsoft. They always try to provide the finest versions and the greatest features for the users with regular updates.
However, there are numerous activation errors that the users face while performing a Windows clean installation for the first time on their Windows 10 desktop or laptop.
Some common activation errors include – Windows 10 activation error 0xc004f074, Windows 10 activation error 0x 8007007b, Windows activation error 0x803F7001, Windows 10 activation error 0x803fa067, Windows 10 activation error 0x 8007232b, and so on.
Well in the future we will surely be dealing with these errors. However, for now…. Lets stick onto Windows 10 Activation Error 0x803F7001.
Now, before leaping straight to the solutions on how to fix Windows 10 activation error 0x803F7001 or Unable To Activate Windows 10, we think it is important for you to learn about the error 0x803F7001 in brief. So let's begin.
What is the 0x803f7001 Windows 10 Error?
Microsoft has made some big changes in the way how the Windows 10 system activates. And users are getting the 0x803F7001 Windows 10 error because of the different activation methods.
Simply a product key was just required to activate the previous versions of Windows. But now the recent Digital Entitlement Method doesn't require entering the product key and your Windows 10 can be activated when upgraded from a genuine Windows 8/8.1 or 7.
And from here the users have started getting the activation flaws. 0x803F7001 Windows 10 is one of them. But why this error appears?
What Causes the Windows 10 error 0x803f7001?
0x803F7001 Windows 10 error or Unable To Activate Windows 10 issue is caused by the faults due to the following reasons:
You may be using a counterfeit version of Windows 10.
0x803f7001 after hardware upgrade– There could be a misconfiguration in the Windows settings after you replace a piece of your computer's hardware.
Your device may not have a valid digital entitlement or a product key.
SLUI 4 not working Windows – Activating Windows 10 using SLUI 4 is one of the most popular and free methods. Error 0x803f7001 can if there's any mistake in the proper configuration.
You do not have a registered Windows 10 license key.
Your operating system and the system drivers are out of date.
Viruses, malware, or any other malicious attacks in the Windows Registry can also cause the error.
Activation will fail if you install Windows 10 on another machine as the license is connected to the hardware.
While reinstalling Windows 10 if you choose something other than the installation edition you are licensed for, a 0x803f7001 error can occur.
Your device may not be able to communicate with the database presently as the activation server can be busy.
The error code 0x803f7001 crops up with the message: 'Activation failed because this device doesn't have a valid digital entitlement or product key. Error 0x803f7001'
So you are aware of the error 0x803f7001 and its several causes. Let us now discuss the solutions to fix it.
Solutions: How to Fix Windows 10 Activation Error 0x803F7001?
Here below-discussed solutions are proven to work when it's about solving… Win 10 Activation 0x803f7001 or Unable To Activate Windows 10 or Activate Windows 10 Error.
Solution 1: Wait For the Problem to Resolve Automatically
Many users have reported that when they replaced some hardware or a part of it such as a motherboard, the error appeared. However, it is likely that the error can disappear after some days.
Note that the license of Microsoft is connected to your software as well as hardware. It requires more than a couple of days for Windows to register the change in your system and to update the hardware list attached to the license. So the first and foremost thing you should do is waiting for two or three days for the error to vanish.
If it still persists you can apply the further steps.        
Solution 2: Try to Activate Windows 10 By Using Phone [Fix Activate Windows 10 Error]
Did you know that you can activate Windows by using the smartphone? We will show you how to do it. Users are just required to use the SLUI process along with the mobile phone to activate the latest Windows. Follow the steps below to do it:
Launch 'Run' by pressing the 'Windows Key' along with the 'R' key.
Insert 'SLUI 4' in the search box and press the 'Enter' key.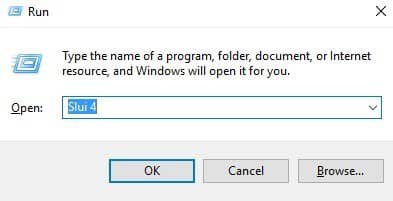 To run the command, press 'OK'.
Choose your 'country and region'.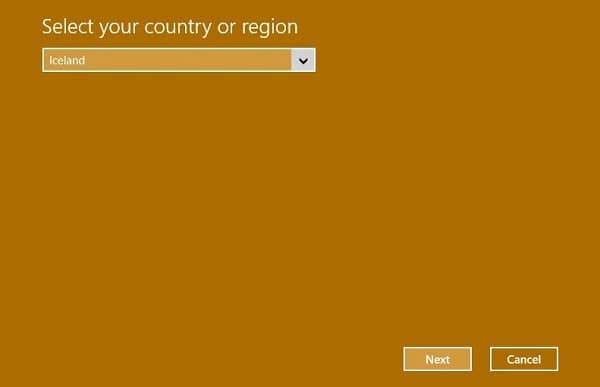 Dial the toll-free number that pops up on the screen for your region.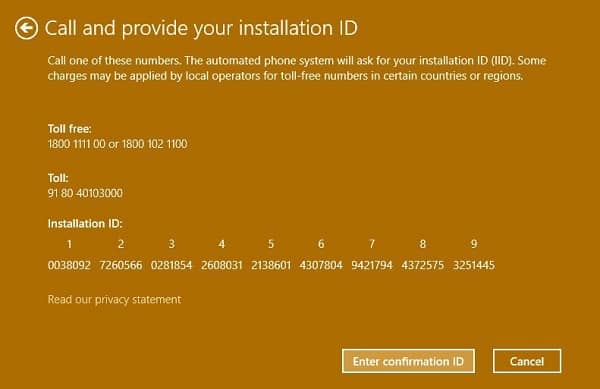 Now you have to wait for the confirmation ID.
Finally, enter the Activation ID and hit the Activation Tab.
Solution 3: Change the Windows 10 Product Key
As mentioned above, users have faced this error while activating Windows when their device was lacking a valid digital entitlement or product key. You have to just change the product key by following the given directions:
Step 1: Launch the Windows Settings app and then directly to the 'Update & Security' section.
Step 2: Navigate to the Activation screen located on the left-hand side.
Step 3: Now click on the 'Change Product Key' option.
Step 4: Press 'Yes' if you get the User Account Control prompt.
Step 5: Choose the desired product key given below against the version of Windows 10 running on your desktop or laptop:
Windows 10 Home: YTMG3-N6DKC-DKB77-7M9GH-8HVX7
Windows 10 Pro product key: VK7JG-NPHTM-C97JM-9MPGT-3V66T
Windows 10 Home N: 4CPRK-NM3K3-X6XXQ-RXX86-WXCHW
Windows 10 Home Single Language: BT79Q-G7N6G-PGBYW-4YWX6-6F4BT
Windows 10 Home Country Specific: 7B6NC-V3438-TRQG7-8TCCX-H6DDY
Windows 10 Professional N: 2B87N-8KFHP-DKV6R-Y2C8J-PKCKT
Step 6: Once you have entered the product key, hit 'Enter'.
Step 7: You will now receive a message that says, "We couldn't activate Windows".
Step 8: Repeat the whole procedure from Step 1.
Step 9: This time paste the product key of your previously installed version of Windows before switching to Windows 10 i.e. Windows 8.1 or 7.
A message saying that you're running a genuine version of Windows will appear if the process of changing the Windows 10 Product Key stands successful.
Solution 4: Buy a genuine license
In case you don't own a Windows genuine license, then we suggest you buy a new Windows 10 copy and after that activate it.
Go to Windows and open the Settings app.
Navigate to Update & Security.
Open the Activation screen and press on the 'Go to the Store' option.
Follow the directions as instructed on MS Store to purchase the genuine license for Windows 10.
You can also go to the Microsoft official page as an alternative to buy and download the original Windows 10.
Alright. So these were some effective solutions on how to fix Windows 10 activation error 0x803F7001. Other than these you can also go for some basic fixations such as:
Scan your entire system for viruses and malware.
Run Windows 10 update to check for any recent patches that could be downloaded to fix the error.
Update all the drivers on your PC.
Clean the Windows Registry of any old or corrupted entries that could cause the error.
You should note that resolving this  Windows 10 Activation Error 0x803f7001 or Error 0x803f7001 Kms may often result in a huge data loss. Besides, data loss has become a common context for everyone nowadays. Therefore, we're gonna share with you the best possible solution for this.
Stellar Data Recovery Software for Windows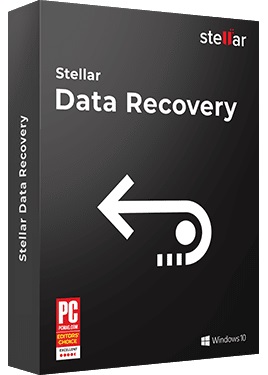 Since most people think that retrieving deleted or formatted data is next to impossible, we are introducing to you Stellar Data Recovery Software which is a fast and customizable file recovery tool.
It is capable of restoring Windows data like your valuable photos, videos, audios, documents, spreadsheets, emails, and whatnot. Data can be restored not only from a computer's hard drive but also from external drives, memory cards, flash drives, optical media like CDs and DVDs, and all other storage media.
Key Features of Stellar Data Recovery Software
Retrieves data from all kinds of data loss situations like accidental deletion, formatting, malware entries, drive corruption, unbootable system, etc.
Recovers from virtual disks like VHDX, VHD, VDI, and VMDK along with RAID 0, 5, and 6 configurations.
Gives a sorted preview of the detected files after the scan.
Recovers data from BitLocker encrypted devices and missing partitions.
Provides SMART monitoring and Clone Disk option.
System Requirements:
| | |
| --- | --- |
| Processor | Pentium Processors |
| Operating System | Windows 10, 8.1, 8, 7, Vista and XP |
| Hard Disk | 250 MB free space |
| Memory | 2GB minimum space (4 BG recommended) |
Stellar Data Recovery Plans with Pricing
The software is available in a free trial version along with five plans. These are:
Standard: $49.99 per year
Professional: $79.99 per year
Premium: $99.99 per year
Technician: $199 per year
Toolkit: $299 per year.
Note: FREE VERSION of Stellar Windows Data Recovery Software allows you to recover upto 1 GB of data only. Nonetheless, regarding the recovery of more data, you need to go for its licensed version. Means, you need to purchase it.
Wrapping Up
Windows is an efficient and easy-to-use operating system that makes our work simple. But it is not devoid of errors at all. Error 0x803F7001 (aka Error 0x803f7001 Kms) is one of the most annoying activation errors that bother the users. We hope that the above-given solutions on how to fix Windows 10 activation error 0x803F7001 will do the magic for you.
If you, unfortunately, run into a data loss scenario then go for Stellar Data Recovery Software for Windows without any doubt. Although there are a lot of data retrieving software in the market, the Stellar DIY tool is the best among them for its powerful features, versatility and is liked by a lot of users. Try the free trial version first and then go for the other plans with added benefits if satisfied.