How to Fix Windows 10 Slow After an Update?
1 min read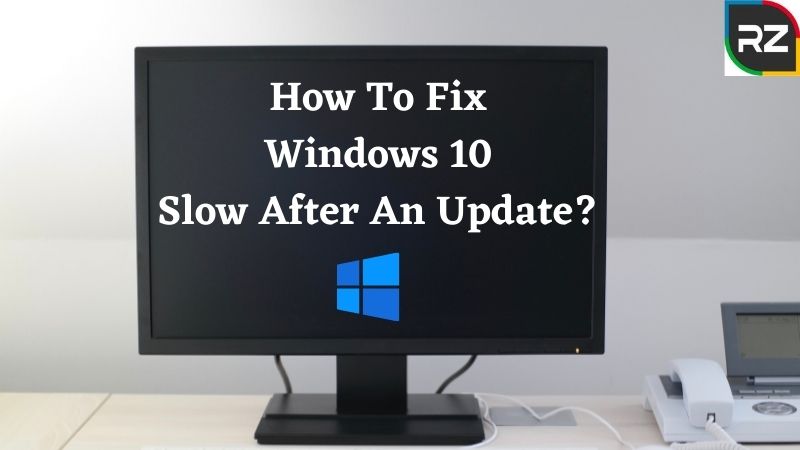 Go Through This Blog, To Find Out How to Fix Windows 10 Slow After an Update?
With due course of time, your system needs an update. However, with every update, you might experience your system getting slower.
Despite the fact that Windows 10 was published 10 years, the issues of it being slower after every update still remain among people.
If you are one among them who want to get rid of the issue of handling a slow processing system, then you have hit the right page.
Well, we are going to discuss the quick ways to make your windows run at their usual speed even after an update.
By any chance, if any of your data gets lost while doing the process, you can use Stellar Data Recovery Software to claim your lost file back.
However, you must get the premium version since the free version might not allow you to get all the benefits.
Prior to discussing How to Fix Windows 10 Slow After an Update, what exactly causes your system to get slow after an update!
Why Does PC Get Slow After Windows 10 Update?
So many people have been curious to know why is my computer so slow after the windows 10 update! Well, the causes could be many, you just have to figure out which one has happened with your system.
Windows 10 update could actually be very beneficial. It supports your system and keeps it safe from any sort of malware attacks.
More than that, it can also protect your system from viruses. Along with dealing with the security flaws, clears out all the bugs in your system as well.
To be more precise, the sole aim of the update is to make your system function better than before. So, what exactly causes your system to run slow?
After going through a thorough analysis and diving deep into the problem, We have found out some issues that might be the cause and they are mentioned below.
#1. An update full of bugs
#2.  Corrupt files
#3. Background Apps
If you don't want to experience any such disaster, you need to stay concerned about so many things. Until the end, you will have a clear idea of How to Fix Windows 10 Slow After an Update.
Effective Ways To Fix Slowing Down Of System After Update
No matter what is the exact cause of your windows getting slower! You can always find a way to fix it and make it run better.
Mentioned below are some of the steps that you can follow.
#1. Roll Back With The Updates
One thing that you can do to get rid of the slow functioning of your system Is to uninstall all the updates that you have done.
Remember, you must only consider going with this option is when you have figured out that the new updates are causing the issue.
Mentioned below are the steps that you need to follow to uninstall the updates from your system.
Step1- At First, you need to go the settings
Step2- click on update and security
Step3- go to windows update
Step4- View update history
After that, click on uninstall updates. Then, you can uninstall the specific updates that you think are causing the issue.
In this way, you can get away with the issue of pc slow after  Windows 11 update.
#2. Disabling the Background Applications
Well, another effective way to get rid of your slow system after an update would be disabling the background apps.
You must be aware of the fact that windows come up with built-in apps that you don't download and are pre-installed in your system.
For your info, these apps keep running in the background even if you haven't opened it or using it anyway. You might get surprised to know that most of the in-built apps are not even necessary for the proper functioning of Windows 11.
Many people witness their games lagging after windows 10 update 2021. Well, this is one of the most common issues faced by youngsters.
One of the major drawbacks of these in-built apps is that they could unnecessarily utilize your CPU resources while making your system slower than usual.
So, an easy and effective way to get rid of your slow system is getting rid of the unnecessary apps running in the background.
In order to boost the performance of your system,  here is how you can terminate those unnecessary apps.
Step1- Go to the Windows Setting
Step2- Go to the privacy and select background apps
Step3- Select the apps that run in the background
Step4- Turn off all the unnecessary apps
After going through all the processes, reboot your computer so that you can regain the normal speed back in your system.
We can say that It is the easiest way if you are looking for How to Fix Windows 10 Slow After an Update.
Note: Going with the steps you might sometimes tend to lose your data with a few mistakes, well. in that case, Stellar Data Recovery Software is a boon for you, that easily restores lost or deleted data.
#3. Perform a Clean Boot
You can perform a clean boot in your system by starting your system with minimum drivers and startup apps.
This process is often beneficial for determining the slowing issues caused by new apps. Along with that, it can easily resolve the issue of your system slowing down.
Mentioned below are the steps that you can follow to do a clean boot.
Step1- Go to the start menu and at the search bar, type "MSConfig".
Step2- Then, select the system app configuration
Step3- You will find a services tab, then click on Hide all Microsoft Services
Step4- After that, click on the option that says Disable all
Step5- Click on the startup tab, and then open the task manager
Step6- In the startup section, you can disable all the apps individually
Step7- You can then close the task manager window
Step8- Select the ok button on the system configuration app on the startup app
All you need to do is perform the mentioned steps and you are ready to start the clean boot in your system. But, remember to reboot your pc before performing the clean boot.
#4. By Repairing the Damaged Files
Sometimes what happens is while you are updating your system, some crucial files might get deleted or damaged due to server issues. This can also happen when the updating process gets interrupted by any reason.
It might as well cause your system to act unpredictably. Fortunately, Microsoft offers a free tool through which you can detect such issues and get rid of it in the nick of time.
The free tool named file checker can repair the damage by thoroughly scanning your pc and coming up with the issue related to it.
To execute the process of running the tool, you need to follow few easy steps that are mentioned below.
Step1- Click on the start menu and type the command prompt in the search bar
Step2- Then, run it as an administrator
Step3- Type SFC /scan now in the command prompt and press enter
Your system will then go through a scanning process. After that, you can reboot your system and enjoy a better speed as well as the functioning.
If the windows update has caused any issues, it would instantly be resolved by the process.
#5. Clear Windows Update Cache
As soon as you update your system, a folder named Windows.old will get automatically saved somewhere in the c drive.
Its nothing more than just a backup of the operating system. One of the drawback of these folder is that it can take a whole lot of space in your c drive.
Moreover, the system cache could also take a little space of the total storage. Mentioned below are the steps that you should follow to delete the folders
Step1- Go to settings, click on system and select storage
Step2- Select "How we free up space" right under the storage sense
Step3- Clear the older version of windows and click on clean now.
After following the steps, restart your pc to have a better experience.
Download Stellar free unlimited data recovery software
Buy Stellar – Best Data Recovery Software
The Conclusion
This article was solely dedicated to resolving your issue of How to Fix Windows 10 Slow After an Update. Well, we have mentioned various ways through which you can get away with this issue.
However, while performing such activities, there are chances that your precious files or data might get deleted from the system.
Well, stellar data recovery software can help you to get hold of all your lost data in the nick of time. In order to regain your lost data and files, you must get the premium version.
The crack version of stellar data recovery software is made by a third-party sources and might only let you preview your files. On the contrary, the premium version would not only recover the files but ensure utmost safety and security.
Hope you found this article informative.