How to Recover Deleted Photos From Digital Camera?
9 min read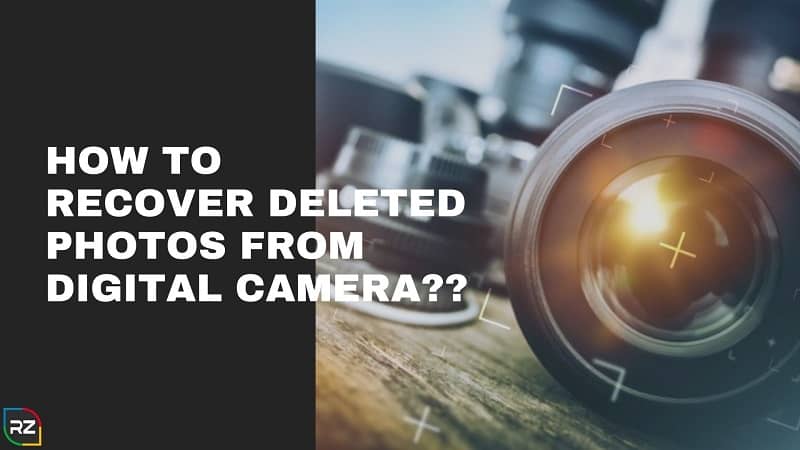 Looking for an effective solution on How to Recover Deleted Photos From Digital Camera?? Welcome to this blog… as it comprises a proven working quick guide on how to recover deleted photos from camera internal memory or how to recover deleted photos from SD Card….
Here, we will provide you with a stepwise solution on how to perform deleted photo recovery… however if in hurry… you can very quickly recover your deleted photos from either a digital camera or mobile phone via the means of Stellar photo recovery software… you just need to download this software and you can get your photos back… To download the software, click the button below…
Now, let's move to the things you need to know when it's about photo recovery…
Sometimes we tend to lose precious photos due to our careless attitude like accidentally pressing the delete button or mindlessly formatting the memory card. However, it might be possible to recover the deleted pictures.
If you too have wondered how to recover deleted photos from digital camera, then read this post to the last. Here, we will give you a satisfying solution on how to recover deleted photos from camera internal memory.
Digital cameras have become immensely popular because they fetch a whole new level of amusement when it comes to taking pictures. The main advantage is that it stores your precious moments in an electronic memory rather than a film. It is more convenient than a traditional film camera as it provides ample space to hold hundreds and thousands. And you can delete the photos after you are satisfied.
Photo loss can happen to anybody. Nonetheless, there is no need to panic as you can troubleshoot this problem with the help of Stellar Photo Recovery Software. You will get a clear picture of its background and of what wonders it does. But before that, you have to take care of something.
Do the Photos Get Delete?
Whenever you lose the photos on your camera SD card due to accidental deletion, the photos are not permanently eliminated. To put it simply, the delete button does not wipe away your photos completely although you cannot view them. What happens instead is that the space the photos occupy gets marked as unallocated and ready for overwriting. It should be noted that if more and more data is newly generated for overwriting, the process to recover the old photos will fail.
Therefore, you need to take some necessary precautions:
The first and foremost thing you need to do after losing all your photos is to stop using the camera or the SD card for storing more photos or videos as one cannot say if overwriting has taken place or not.
To prevent interruption in the reading-writing process, do not eject the memory card without switching off your camera
Stellar Photo Recovery Software
Stellar Photo Recovery software is the answer to the question of how to recover deleted photos from SD card. Since memory cards are used both in digital cameras and mobiles, this software is the solution on how to recover deleted photos from mobile camera too.
Stellar software for photo recovery, previously known as Stellar Phoenix Photo Recovery, is an incredible do-it-yourself tool for an efficient resurrection of your deleted photos from your digital camera memory card. Moreover, it can recover any digital media from any device with super ease. The software is available for both Windows as well as Mac. Stellar Photo Recovery is the best and the most versatile in the growing market of free photo recovery software.
A corrupt SD card can also pose threat to your photos and videos and make them inaccessible. But Stellar Photo Recovery software has the potential to facilitate a 100% recovery through three simple steps i.e. scan, preview, and recover. Its popularity is due to the array of amazing properties that it offers.
Key Features of Stellar Photo Recovery Software
Here find salient features of Stellar Photo Recovery Software… Know, how it's the best when it's about how to recover deleted photos from camera internal memory…
Recovers Photos of All Formats
Unlike other photo recovery software, it can recover images in both RAW and JPEG format including BMP, GIF, PSP, PNG, JP2, etc. This photo recovery tool has been designed for the professional photographers as it supports every photo format of almost all the major cameras – Canon (CR2/CR3/CRW), Kodak (DCR/K25/KDC), Fujifilm (RAF), EPSON (ERF), Nikon (NEF/NRW), Panasonic (Raw), Sony (ARW/ SRF/SR2), Adobe EPS (Mac/Windows), and many more.
If you use a Canon digital camera and have somehow lost all your photos then read How to recover deleted photos from canon camera free.
Memory Card Recovery
The software is able to undelete the photos and videos that you have seemingly lost from a corrupted, damaged, or inaccessible from all types of SD cards be it Micro, Mini, SDHC, or SDXC. Recovery is also possible from memory stick, CF card, MultiMediaCard, eXtreme (xD) picture card, XQD memory card, Eye-FI WiFi SD card, flashcards, and so on. The supported SD card models include SanDisk, Samsung, Toshiba, Panasonic, Duracell, Polaroid, Transcend, and all other major models.
Retrieves Videos & Audios
The versatility of this software is proved by the fact that it can retrieve video files of 3GP, MP4, AVI, MKV, MTS, MPEG, DIVX, MOV, ASX, SVI, MOI, AVCHD, etc as well as audio files of MP3, MIDI, AU, WAV, WMA, M4P, M4A, NRA, SND, AIFF, CAFF, DSS, M4R, etc. So, now you know how to recover deleted videos from canon camera
Premium Edition
The premium edition of this photo recovery tool is the best utility software for professional photographers, videographers, video agencies, etc. If you buy the premium edition, not only you will be able to restore your deleted photos and other media but also repair the photos that are corrupt, blurry, damaged, or distorted. It is a must-have for people who are engaged in filming, shooting, editing, etc. and for whom creativity matters.
Recovery from Encrypted Devices
Stellar photo recovery tool can also efficiently retrieve lost photos, and media files from BitLocker encrypted drives, partitions, or volumes. To begin the recovery from your encrypted SD card, flash drive, SSD, etc, just scan the drive in the software and enter the BitLocker password when prompted to do so.
Deep Scan Option
The improved deep scanning engine of this tool performs a thorough search of the selected drive if your desired file is not added to the detected files list after the quick scan. This will ensure that all your files and folders are found accurately and recovered.
Add User Required File Type
Stellar Photo Recovery is a flexible utility tool. In case you don't find the format of the file that you wish to recover in the supported file types of the tool, you can then manually add new file headers or edit the existing file types for your convenience.
Save Scan Data & Resume Recovery
You can save the generated directory tree structure as a file on your desired location after the scanning process or at any point in between. This will help in regenerating the found files and folders or to resume the recovery at a later time.
Organized Preview
The detected multimedia files in this software are previewed in three different and convenient ways which are File Type, Tree View, and Deleted List. File Type categorizes by photos, videos, and audio files. Tree View guides you to the file location. The deleted list provides a view of the deleted files to recover. This sorted view helps in identifying the relevant files.
Create Selected Media Image
The bad sectors of your storage media that develops with continuous usage make the data often inaccessible. This photo recovery tool can create a sector-by-sector image of the selected range of media that can be used to save the data in the remaining good sectors and also to recover the data.
Recovery of Unicode Files
The new version of the Stellar Photo Recovery Software supports the recovery of the Unicode file which makes this software the most unique in the market.
SMART Information
You can obtain SMART information about your storage device, volume, or partition. It will reveal the health and temperature of your hard disk and ascertain if there are any HDD wearing signs. Thus you can take a timely backup of your drive to tackle future data loss situations.
Speedy Recovery
As compared to other photo recovery tools in the market, Stella software for photo recovery has a higher rate of retrieving your photos, videos, and audios. The estimated time is also displayed during the scanning procedure.
Maintains the Originality of the Files
Stellar Photo Recovery – Professional software recovers your photos and videos with their original time-date stamp, camera model, name, and resolution. It even restores the original image with its respective thumbnail. This makes it convenient for you to recognize and organize the required files from a lot of irrelevant files.
Stellar Photo Recovery has emerged as the most popular and loved tool in the market. It is used and recommended by many photographers, videographers, and editors as it supports all the digital cameras and also recovers graphics, logos, illustrations, drawings, etc. Anyone can use this tool and it does not require any technical knowledge.
Now we will head towards the Stellar Photo Recovery Software's system requirements…
Since the software is available for both Windows & Mac OS… So, providing you with the system requirements of both…
System Requirements…
For Windows
| | |
| --- | --- |
| Processor | Pentium Class |
| Hard Disk | 100 MB/Megabytes |
| Memory | 1 GB/Gigabyte |
| Operating System | Windows 10/8/7/Vista/XP |
For Mac
| | |
| --- | --- |
| Processor | Intel |
| Hard Disk | 100 MB/Megabytes |
| Memory | 1 GB/Gigabyte |
| Operating System | Mac OS, Mojave 10.14 and above |
Steps on How to Recover Deleted Photos from Digital Camera With Stellar
Given below are the steps to use Stellar Photo Recovery Software on how to recover pictures on SD card:
Stellar Photo Recovery Software is available on Stellar's official website. You can purchase the software from there. Along with the free version, there are three paid versions that you can buy according to your need- Standard, Professional, and Premium.
Once you purchase the software, you will receive the activation key through email. To activate the software, simply paste the activation key and press 'Activate'.
In order to select the digital camera SD card drive from the software, connect it to your system.
Hit the 'Scan' button to begin the scanning of your SD card. You can even turn on the 'Deep Scan' toggle for a comprehensive scan.
After the scan is over, you can wish to preview the details of the files and folders.
Now choose the type of file as photos and specify the desired formats you want to recover.
Once you have decided on the files, click on 'Recover'.
Finally, select the destination where you want to save the recovered files and then click on 'Start Saving'.
Conclusion
Losing all the photos unexpectedly is the worst nightmare for professional photographers and even people with digital cameras. Although we do not want our valuable photos to vanish from the gallery, the blunder sometimes happens due to both human and technological errors. Many of us either do not know how to recover deleted photos from gallery or we get confused in choosing the ideal photo recovery software.
Keep in mind that recovery can only take place as long as the overwriting is prevented. So, from the above discussion, it is clear that Stellar Photo Recovery is the best solution on how to recover deleted photos from digital camera. Its effective features and easy user interface makes it a reliable tool. It is absolutely worth your investment.