How to Stop Pop-Up Ads on Android Phone?
6 min read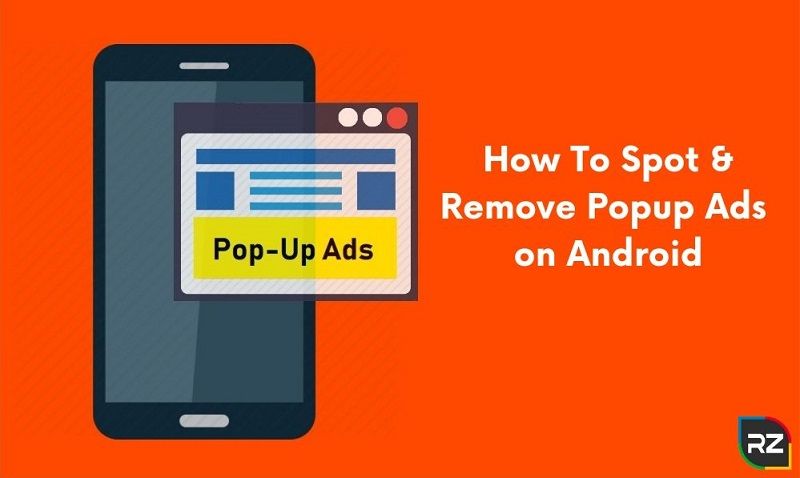 Are you also fed up with the popup ads that appear on your phone screen while surfing the internet, and looking for – How to Spot and Remove Popup Ads on Android?? 
Then, don't worry, you are in the right place. As in this blog we have dealt with – 'How to Stop Ads on Android Phone along with How to Find out What App is Causing Pop-Ups'…………………….
While surfing the internet or enjoying movie or songs, pop up ads just comes up, which is very frustrating as it causes an interruption between our fun time. Apart from that, when it appears on Android, it has a limited screen size too which becomes difficult for us to cross the ads.
It generally comes either when you're browsing the web or appearing as full-screen ads in-app or it comes as a notification ad.
These Popup ads are just to promote their products and make a sale for it, which is useless for most of us and wants to get rid of it.
Therefore, in this blog, we'll explain simple methods to solve your problem of these Popup ads. Just hold on, as we will discuss also inform you about which apps are causing pop-ups on your screen.
How to Spot and Remove Popup Ads on Android         
It is really annoying when Pop up Ads on Android Home Screen appears. Thus, we hope everyone wants to get rid of it. Therefore, in this section, we will discuss it in brief – "How to Stop Ads On Android Home Screen".
Using Chrome Built-in Option, we have briefly discussed 'How to Spot and remove Popup ads on Android'.
Chrome is the most used browser on every Android and it is generally as a default Android Browser, you can easily disable them with a little change in settings required.
Open Chrome Browser
Click on the three-dot menu button
Select Settings
Navigate to Site settings
In this menu, you will see a list of properties
Tap on to Pop-ups
Make the slider set to off position.
Now it has done and chrome will prevent pop-ups and it will not redirect to the sites, you don't want to go and also prevent pop up ads on the home screen.
How to Stop Ads on Android Phone
As you are here in the settings, you can follow these steps and you will get to know how to stop Ads on Android phones.
Tap on to Ads entry
Make sure the slider is turned off
Now chrome will block unwanted and misleading ads on spam sites.
Sometimes it doesn't work for your problem, you can enable Chrome's data saver mode. You can reduce the amount of mobile data to be used for viewing websites, To Enable
Visit Menu > Settings > Data Saver
Keep the slider on
This can cause some websites to look somewhat different, but you can decide whether you want to enable it.
How to Stop Google Ads on Android
In this section, we will describe, How to Stop Google Ads on Android from appearing in your browser.
If you are playing a game on an app, and you are frequently facing the same problem, it indicates that your app is the culprit.
To stop popup ads inside an app, you can purchase the pro or ad-free versions of the app, and it is easy to find out in-app purchases.
It will block all the ads popping out frequently, but you have to look for the developer, as every developer doesn't offer this.
And if your app doesn't require the internet then you can put your phone in flight mode, it will also block the ads, but it doesn't work when the internet is required.
How to Remove Pop up Ads on Samsung S8?
It is really annoying when you are watching and reading something very interesting and suddenly pop up comes on the screen.
We will discuss briefly – How Do I Stop Pop Up Ads On My Samsung? Just follow the simple method and get rid of the popup ads on your screen.
No pop up blocking method is 100 % effective, you can just block from the same time until next time by just following simple security practices.
And if you are noticing on your Samsung galaxy, and this could be caused by a third-party app, in order to remove the adverts you have to either disable the application or uninstall the application.
You can have a look by opening your play store, which app is popping ads on the screen, by checking the recently installed applications.
There are few settings on your phone to check which app is the cause.
How to Find out What App is Causing Pop-Ups
Here are some simple and easy steps by which you can find out which app is causing pop-ups on your android. Just follow these steps if looking for – How to Stop Pop-Up Ads on Android Phone.
Identifying the App
To check the app, you can check the app that is active on your device, as the problem occurs, you just go to Google Playstore to have a look which app is recently active.
Just narrow it and sort out from the option and select "Last Used" and it will be shown and you can uninstall it and ads stop appearing on your Galaxy or s8.
Blocking Ads through Chrome
Follow these steps:
Open the Google Chrome and tap the 3 dots
Select settings
Scroll down the page and locate Site Settings
Tap on pop-ups and redirects
Ensure that the setting is off
Go back to site settings
Select Ads
Ensure that it is set to Off
Blocking Ads on Samsung s8 through Internet
Follow these steps:
Launch the Samsung internet app
Tap on the three lines
Select Settings
Select Sites and download > Toggle on Block pop-ups
Go back to Samsung Internet menu and select Ad blockers
Download a trusted Ad-blocker
I hope the steps mentioned above will surely solve the problem of Ads popping on the home screen.
Conclusion
Ads on-screen while enjoying our own time on the phone is really annoying, it comes either on the home screen, full screen, or inbuilt app.
Blocking ads is the only option left, and it can be blocked through many steps, it is recommended to always go through the details before installing the app.
No method can block the Ads 100%, but it can only stop the ads until you come on the app next time.
There are many apps that show Ads frequently, so it can also be changed by settings.
Blocking Ads on Samsung s8 or Galaxy is also the same way, you can block it in 3 ways either through Chrome, Samsung Internet.
Identifying the apps which show pop-ups is also a method to Block the Ads, to check the apps you can check through Google Playstore.
To block Ads, you can do through Chrome, Internet and it is as simple as that.
We hope that you have got your answer for – How to Spot and Remove Popup Ads on Android. Follow the mentioned steps and get rid of Ads On Your Android Home Screen.