Is Windows 11 Good for Developers? Why Do They Prefer It?
4 min read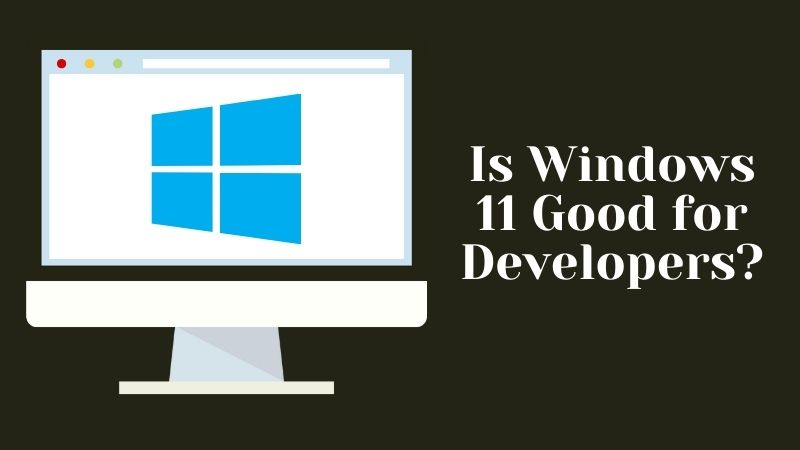 Is Windows 11 Good for Developers? It's a hot topic in the market.
Also, it's a subjective question that needs a thorough answer.
Anyways, in this blog, we took the responsibility to clear this confusion.
We'll analyze different aspects of Windows 11 and verify, 'Is Windows 11 Good for Developers?'
Development, whether web, software, or application, is a detailed and complex task.
It requires skilled personnel as well as an equipped apparatus to carry out the job.
Let's see how good is windows 11 for web developers.
Why Is Windows 11 Good for Developers?
It's a fact that the majority of developers use the windows operating system for their work.
So, what makes windows 11 developer-friendly?
Well, there is a whole list. We will go through the key features of that list one-by-one.
Features that Make Windows 11 the best Choice for Developers are:
It offers a Wider App Support
After the latest update by Microsoft, windows support a few additional forms of the app. This includes Win32, PWA, and .NET.
Previously, they had to write their apps in such a manner that they would be supported by windows.
But now, they can focus their energy more on making the app better. It is encouraging other developers as well to use windows as a platform to do their job.
Better Support on the Third Party Front
Third-party app stores like Amazon Appstore and Epic games Store are now directly available on Microsoft.
Hence, the developers can get their apps published instantly through windows itself.
They won't need any separate platform or app stores to get their jobs published.
Provide Better Incentives for Development
With the latest windows 11 update, Microsoft has done its best to provide great incentives for software developers.
Microsoft allows the developers to use their own or a third-party platform and keep 100% of the revenue generated.
This motivates a lot of developers on a financial front.
Windows Provide Android App Support
The android app support is something why is windows 11 good for developers. Android is the most used platform for application development.
Now with the new windows 11 download you can bridge the gap between windows and android to an extent.
Although this will take some time. The work to integrate android and amazon app store with windows is still in progress.
However, when completed, it will be a treat for all the developers out there.
There are Improved Developer Tools Available
The rebranding and redesigning of Project Reunion and WinUI3 as Windws App SDK has eased out the front end.
At the internal level, it still supports Win32 and .NET apps. Furthermore, new development tools are added to the system.
Windows App SDK will introduce some APIs that would fill the gap between different app models.
Windows Offers Amazing multitasking Experience
The latest Windows 11 will give you the power to use every inch of your screen to its full potential.
You'll be able to run different programs simultaneously. It would allow the developers to program the app and check it out at the same time.
You can just hover on the maximize button, and choose the number of snap options depending on your use and screen size as well.
However, multitasking can generally reduce performance. But windows got it covered.
Enhanced Security in the New Windows
New and innovative developments are always under the threat of industrial espionage and data theft.
Also, there are always risks of malware attacks. With the new windows 11 developer download, you can sleep tension-free.
However, there might be risks. But, the heightened security in the new windows 11 update eliminates most of it.
A safe and secure system is quite necessary for developers to keep their hard work protected.
Windows 11 provides this privilege.
All these features are enough to make windows 11 an ideal choice for the developers.
Be it software or web developers, windows 11 is equipped with all the guns to win the battle.
Sometimes data loss can be a problem. However, you can recover the lost data easily through simple steps.
You can also take the help of an expert to get your data recovered.
Data recovery software is also very popular these days. You can also use one to recover your lost data.
However, there is so much such software available in the market. But we'll recommend Stellar Windows Data Recovery Software.
There might be a few doubts left such as, is windows 11 free?
Well, have some patience. Microsoft will clear all these things really soon.
For now, we got the hold on 'is windows 11 good for developers?'
So, let's wrap it up.
Summary
Windows is the most preferred platform for developers around the world.
Why? The above information in the blog clears it up.
However, the windows 11 system requirements might be specific. But probably any developer's system can accommodate it.
With the announcement of windows 11 release date, Microsoft literally announced a treat for all the developers.