13 Ways on How do I Fix Error Code 0x800CCC0E in Outlook?
10 min read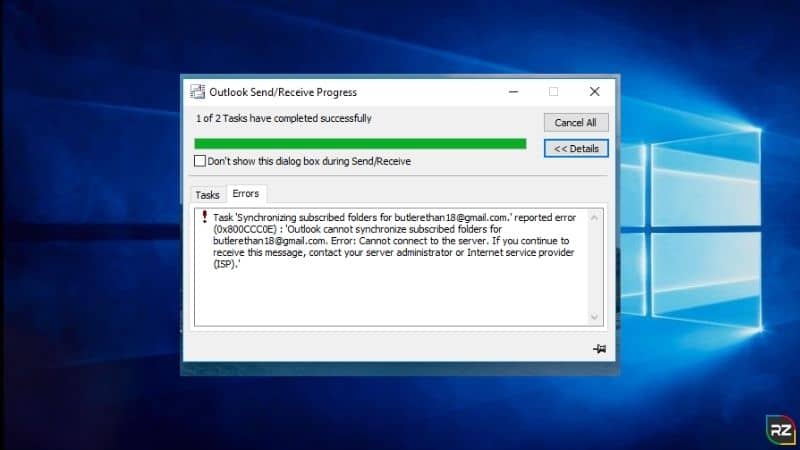 Are you encountering Outlook Error 0x800ccc0e and unable to send or receive emails in Outlook??
It usually becomes a never-ending struggle to fix the issues with the Exchange Server client. Nonetheless, do not stress it out if you wonder "How do I fix error 0x800ccc0e in Outlook 365?"
Read this technical blog to find out your ideal solution to resolve the outlook error 0x800ccc0e or its associated errors like synchronizing subscribed folders outlook error 0x800ccc0e or outlook error 0x800ccc0e Gmail or outlook error 0x800ccc0e cannot connect to server and etc.
If you often use mail services then you must have heard of Outlook. Microsoft Outlook is the most popular and sought after email client application across the world with the functionality to send and receive emails, notes, attachments, calendars, etc. And there is a reason why Outlook is the most preferred personal manager among professionals. It allows the configuration of your other email accounts like Office 365, IMAP, POP, or Exchange with MS Outlook and access to your emails or messages in one place.
However, sometimes it encounters errors and glitches like other mail clients. Outlook error 0x800ccc0e is probably the most common error that users face while performing email communication. First, let us try to understand the Outlook error 0x800ccc0e.
What is Error Number 0x800ccc0e Outlook Express?
The 0x800ccc0e Outlook 2013 error usually pops up when there is something wrong with MS Outlook, Outlook Express, or Windows Mail. It occurs when there is no internet connection or while using any one of the Microsoft Outlook programs configured with an IMAP (Internet Message Access Protocol) account, the SMTP (Simple Mail Transfer Protocol) server is unable to send or receive emails.
Outlook gets slow sometimes, especially while connecting IMAP accounts because of having too many folders and messages with attachments. The error notification states that 3 out of 4 tasks have completed successfully indicating the error 0x800ccc0e.
Furthermore, the Outlook error (0x800ccc0ee iCloud) appears when the MS Outlook email client does not sync with your iCloud email account. Read the blog further to know the reasons behind this error and the way it is displayed.
What Causes the Outlook Error 0x800ccc0e?
It is quite a matter of concern to know why most of the Outlook errors like this occur. Frequent showing up of this error indicates that MS Outlook is not initiated to recognize that an Advanced IMAP configuration parameter is required by the server to read properly from the folder structure. Besides, the following causes might also be responsible for the error of 0x800ccc0e Outlook 2013, 2016, or 365:
Disturbed internet connectivity and fluctuating network issues.
Antivirus creating hindrances to prevent the synchronization of the Outlook account or folders.
Firewall settings restricting certain features of Outlook.
A dispute between SMTP servers causing SMTP authentication error.
Inaccurate port number for outgoing SMTP servers.
Using damaged or corrupt PST files.
Suspicious emails.
Faulty Add-ins in MS Outlook.
Malware or virus infection.
Inappropriate ID and password issues.
Inaccurate email account settings.
Irregular installation of Microsoft Office or Microsoft Outlook.
These are some of the possible circumstances that prompt the error. But what does the error message state?
How Outlook Error 0x800ccc0e (aka 0x800ccc0e Outlook 2013) Get Displayed?
The common Outlook error 0x800ccc0e is generally accompanied by a long text that is shown in either of these ways:
"Checking for the new mail in subscribed folders on your account.com. 'reported the error (0x800ccc0e): 'Microsoft is not able to download the folder (null) for account abc@domainname.com from the INAP mail Server. Error: Unable to connect to the Mail Server. If continue receiving the same error message, contact Server administrator or Internet Service Provider (ISP)"
Task 'Synchronizing subscribed folders for abc@domainname.com. 'reported error (0x800ccc0e) : 'Outlook cannot synchronize subscribed folders for abc@domainname.com . Error: Cannot connect to the server. If you continue to receive this message, contact your server administrator or Internet service provider (ISP).'
Now let us discuss the main concern of this blog. If you are stuck with the Outlook error 0x800ccc0e, have a look at the solutions below.
How Do I Fix Error 0x800ccc0e in Outlook 365?
Once you have figured out the exact culprit of this issue, you can fix it the needed way. We have provided you with 13 troubleshooting methods to get rid of Outlook error 0x800ccc0e effectively.
Check Your Internet Connection
The first and foremost thing you need to take care of is a stable internet connection. Proper network connectivity is crucial for the function of sending and receiving emails in Outlook. Check the hardware and configurational changes along with the consistent connection between cables and modems to avoid unnecessary errors.
Verify SMTP Server Connectivity
It is important to scrutinize the SMPT settings to authenticate your outgoing server otherwise it will show Outlook error 0x800ccc0e cannot connect to the server. Follow these steps to fix it:
After opening Outlook, click on 'Tools'.
Click on the 'Account Setting' from the opened list.
First, click on the 'E-mail' tab and then choose your 'Email Account'.
Press 'More Setting'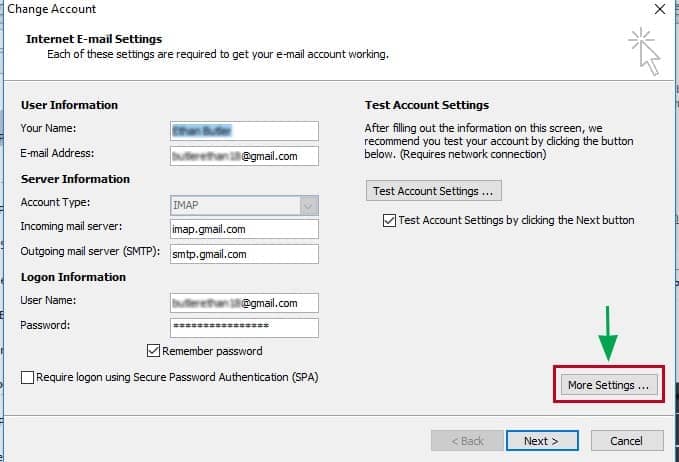 Open the 'Outgoing Server' tab and put a check on the 'My outgoing (SMTP) requires authentication'.
Press 'Ok' and wait for the process to be completely over.
Restart MS Outlook.
Change the SMTP Port Number (One of the Finest Ways on How To Fix Error 0x800ccc0e outlook)
A mismatch of the SMTP port outgoing server can cause the Outlook error 0x800ccc0e. You must check the port number of the outgoing server and change it to either 25 or 587. To do so:
Go to MS Outlook and open 'Tools'.
Click on 'Account Setting'.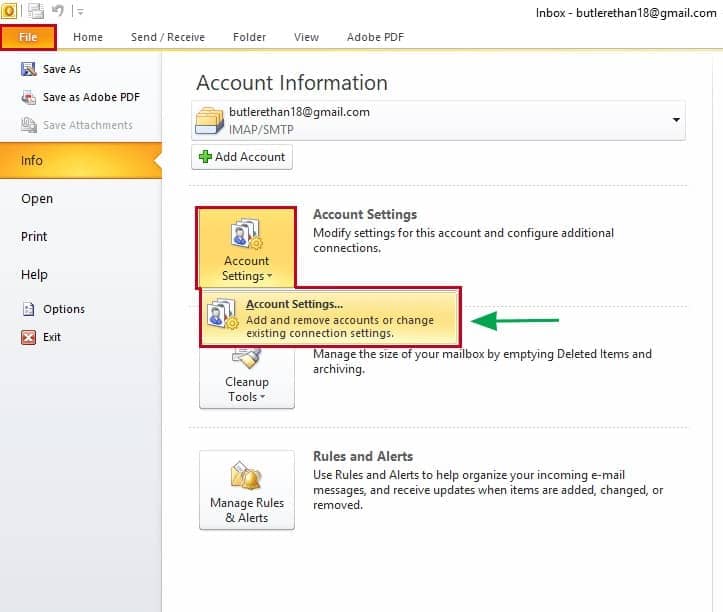 Now press the 'E-mail' tab and click on your 'Email Account'.
You will be prompted by the Change E-mail Account pop-up window. Then press the 'More Setting' tab.
Now from the 'Internet E-mail Settings' pop-up window, hit on the 'Advanced' tab.
Navigate to 'Outgoing Server (SMTP)' and put the number 587.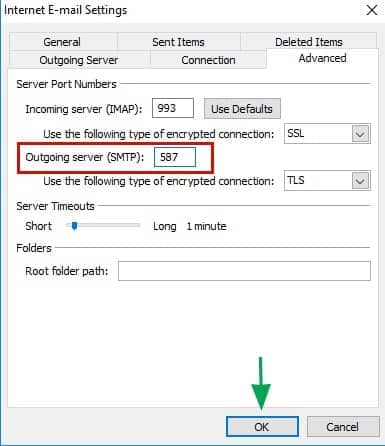 Check Your Email Account Settings in Outlook
The Outlook error 0x800ccc0e Gmail can also occur due to some invalid changes in your Outlook Email/Gmail account. The connection of your Outlook application can get hampered by inappropriate username and password or incoming and outgoing mail settings. Therefore, you have to check and verify the settings.
While verifying, make sure that the username is your complete email address and the password should be the same as webmail. Secure Password Authentication (SPA) should be 'No' and encryption should be SSL/TLS in both incoming and outgoing. However, the configuration process may vary from different versions of MS Outlook.
Clear Out the Outbox
Check the Outlook applications outbox for any pending email messages. You can either delete them or save them as a draft to process again.
Select 'Work Offline Mode' under the 'Send/Receive' tab.
Now open the 'Outbox' folder and delete the stored messages or move them to the 'Draft' folder.
Disable the Antivirus Program
The installed antivirus software on your computer might also cause this error. Although these programs are installed for security purposes at times they are inclusive of email scanning which prevents you from accessing your email account properly. Anti-viruses are designed in such a way that they disable anything they find remotely suspicious. That is why you need to disable all kinds of antivirus, email scanning software, email spammers, ad blockers, or make some additional changes until you can fully connect to your email account.
Configure Firewall Settings (How To Fix synchronizing subscribed folders outlook error 0x800ccc0e)
Sometimes the Firewall of your system blocks some Outlook files from accessing the internet. You need to make sure this does not happen by enacting the configuration keeping in mind the security risks associated with it. Ensure that the Firewall enables the following files to connect to the internet:
exe (for MS Outlook)
exe (for Outlook Express)
Launch MS Outlook in Safe Mode
Staring Microsoft Outlook in safe mode can resolve not just Outlook error 0x800ccc0e but many other Outlook errors.
If you are a user of Windows XP, 2000, and 2003, run the command 'outlook.exe/safe' in the 'Start' and click 'OK'.
And if you use Windows version of 10, 8.1, 8, 7, or Vista, type outlook.exe/safe in the Search bar of your operating system and press 'Enter'.
Now you need to determine the add-in that is causing the problem.
Open the 'File' menu and press Options.
Now click on Add-ins.
Press the 'Go' button after selecting Com-in Add in the 'Manage' drop-down menu.
Untick the add-ins in the list, close Office, and restart it.
Disable the add-ins one by one and restart Outlook. Repeat the procedure to find out the problem causing the add-in.
Increase Server Timeout
Adjusting the timeout settings of the server can also prevent the error along with a wide number of other errors. To implement it:
Open MS Outlook.
Go to the 'File' menu.
Click on 'Info' and open 'Account Settings'.
Click on 'Change' after choosing the target POP3.
Now open 'More Settings' and then increase the server timeout settings from the 'Advanced' tab until the issue is resolved.
Clear Suspicious Email Messages
Any kind of unwanted or suspicious email should be eliminated immediately. Malicious emails from untrustworthy sources with attachments can be the reason for synchronization errors in Outlook. You can delete these email messages from the mailbox with the aid of ISP's web-based email program.
Remove Duplicate Outlook Accounts
The reason behind getting Outlook error 0x800ccc0e Gmail might be the possibility that you are using a duplicate Outlook Account. In order to remove it you can follow the steps below:
Open MS Outlook from the official website and then sign in.
Navigate to the 'Tools' from the menu bar.
Hit on the 'Account Settings' to display a new window.
Now Navigate to 'Email' and check for duplicate accounts.
If there is any, click the 'Remove' button to delete it.
Re-install Microsoft outlook (How To Fix Outlook Error 0x800ccc0e Cannot Connect to Server)
In case the other methods show no sign of hope then reinstalling MS Outlook would erase the error completely with ease. Make sure to create a backup of the PST file before uninstalling it. You can even perform a Clean Boot in Windows if any other application is conflicting with Outlook. Follow the steps to do so:
Launch your PC as an administrator
Type the command 'msconfig' in the run.
Search and click on 'System Configuration' from the opened wizard.
Open the 'Services' tab and tick the 'Hide all Microsoft Services' checkbox.
Now click on the 'Disable' button.
Go to the 'Startup' tab
Hit on 'Open the Task Manager'.
Select and 'Disable' each item separately in the task manager.
Finally, restart your operating system and again install MS Outlook.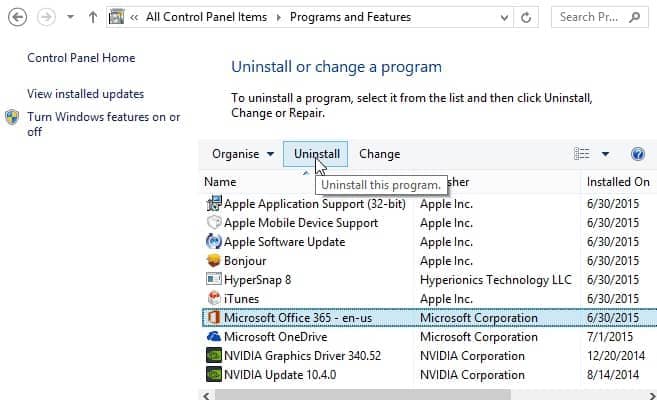 Create a New Outlook Account
You can try making a new profile on MS Outlook. It is a vital component for it is the specified place for your saved emails with other data and settings. To create a new Outlook profile:
Launch Outlook and select 'File'.
First press on Account Settings and then click Manage Profiles.
Now press on 'Show Profiles' and then 'Add'.
Type a suitable name and hit the 'OK' button.
OK… so this was all about how to fix outlook error 0x800ccc0e Gmail or 0x800ccc0e outlook 2013. Hopefully, now you are clear on How do I fix error code 0x800CCC0E in Outlook
Now the issue is… sometimes implementation of the aforementioned steps results in the occurrence of Outlook data loss. So, the situation of course might get pathetic, as the data is always very very important for everyone.
If encountering the data loss situation, then friend… you don't need to worry at all… What you need to do is go for Outlook Data Recovery Software…
Now despite the fact that there is always wide availability of Outlook Data Recovery Software in the market, we always recommend going for Stellar Outlook Data Recovery Software.
Stellar Outlook Data Recovery Software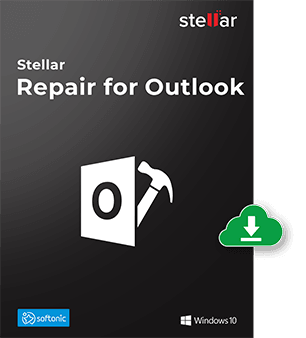 Stellar Outlook Data Recovery Software (aka Stellar Repair for Outlook or Outlook PST Recovery Software) is a smart and professional software, capable of scanning and recovering corrupt or inaccessible Outlook data.
The software comprises a simple and user-friendly interface…. So can get used by even non-professional PC users.
Equipped with numerous powerful and enhance algorithmic skills, the software is capable of recovering all the mailbox components within the files like emails, attachments, calendar items, contacts, journals, notes and etc.
Stellar Outlook Data Recovery Software is compatible with all the latest Outlook versions including Outlook 2016, 2013, 2010, 2007, 2003, 2002 & 2000.
System Requirements
| | |
| --- | --- |
| Processor | Pentium Class |
| Operating System | Windows 10/8.1/8/7/Vista & XP |
| Memory | 1 GB Minimum |
| Hard Disk | 100 MB of Free Space |
Conclusion
Microsoft Outlook is a very beneficial application. It is pretty evident that the synchronization and connecting errors in Outlook can terminate your important work dealing with email services. This common bug is faced by a lot of users but most of them are unaware of its cause and fixes. In this article, we have wrapped up all the necessary points you need to know about the Outlook error 0x800ccc0e. We hope that you will be able to troubleshoot this issue manually by the tested methods given above without any hassle.