Stellar Outlook PST Recovery Software- A Must BUY for Every Professional
1 min read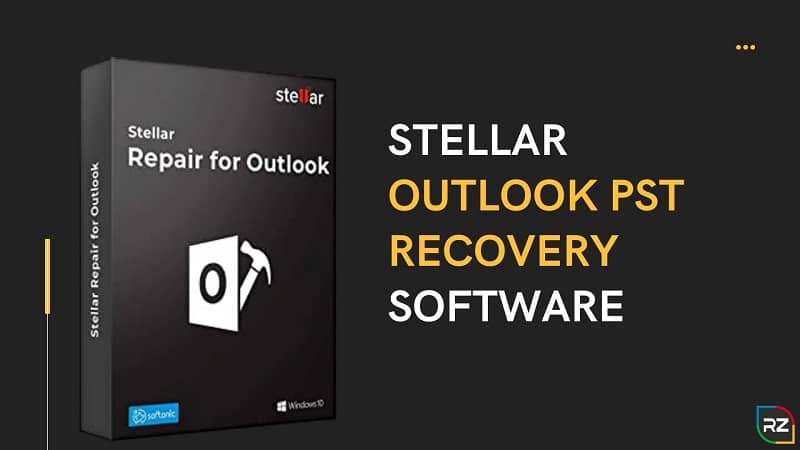 It might freak you out when you get to know that your emails, attachments, contacts, calendars, tasks, notes, etc. in your outlook is inaccessible or got deleted or got lost.
The system's inevitable errors, corruption can let you lose your job, delete your valuable data. Moreover, you can even miss your dates. So, you might be wondering, 'What is the solution, then?" The solution is Stellar Outlook PST Recovery Software.
Below we will detail in brief how this Outlook PST Repair Software (aka Stellar Phoenix Outlook PST Repair) is the best, its working mechanism and all… however if in hurry… you can go for direct downloading of this software… Just click the text below and you will get the software download to your system
Why Stellar Outlook PST Recovery Software is a Need?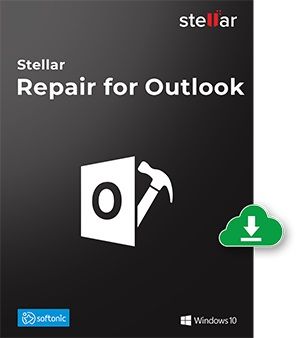 The question is obvious. Why you need a PST recovery tool? The following reason justifies the need:
PST File Corruption: PST File Corruption can arise due to large-sized Outlook Data File, virus or malware infection, or storing PST file on a network share location. The Stellar PST Repair Software is capable of Repair Corrupt PST
Default Inbox Repair tool is unable to resolve PST corruption- ScanPST.exe (default Inbox Repair tool) may fail to resolve or repair large or severely corrupt PST file. The repairing process freezes many times due to the large configuration of the folder or the severity of the corruption. This software Stellar PST recovery furnishes users to Scan Corrupt PST File and performs outlook PST repair.
Common Errors: 'Outlook PST cannot be accessed error 0x80040116', 'Outlook not implemented' error, 'PST is not a personal folders file', are some common PST file errors displayed on a system. Stellar Repair for Outlook is the only escape from such errors.
You might interrogate why to buy Stellar Outlook PST Recovery Software? Why it is the best PST repair tool?
Stellar's prominence in the industry is the answer. Its features are your master plans to keep your PST data safe and secure.
What Makes Stellar Outlook PST Recovery Software- The Best PST Repair Tool
Its secret to popularity and demand is hidden in its features. Let us go through its salient features:
Recovers Mailbox from Large PST
The default Inbox Tool Repair is not capable of scanning or repairing large PST files whereas the Stellar PST Recovery Tool can scan and repair large-sized PST files without any restriction, issues and reconstruct them to their original form.
This software also allows the recovery of encrypted PST files.
 Retrieves Deleted Outlook Mailbox items
Stellar PST File Recovery tool furnishes users to restore emails deleted from Inbox and emptied from 'Deleted Items' folder in Outlook. It is quite useful when you have lost emails owing to unintentional deletion. Cool, isn't it?
User-centric Interface and Preview Layout
The Stellar Outlook PST recovery Software allows retrieval of PST files in two easy steps- Scan and Recover. It also allows you to split the process into two by enabling saving of the scan results for a PST in DAT file, which can be loaded later into the software to continue the PST Recovery process. Further, this feature eliminates the need for re-scanning with each Outlook Recovery process.
It previews the recoverable mailbox items in enhanced tree format which allows the users to recover individual emails by selecting them from the Preview pane.
Easy and Fast Recovery
Stellar Outlook PST Recovery facilitates an instant Outlook email recovery solution for individual users and organizations to fix corrupt PST file and restore mailbox data.
It recovers all mailbox items viz. emails, attachments, contacts, calendar items, journals, notes, etc., and saves them in a new PST file which is readily importable in Outlook.
Save in Multiple Format Options and Compatible with all Versions
The Stellar Software restores Mailbox Data as a new PST, EML, MSG, RTF, HTML, or PDF File on all the Outlook versions – 2019, 2016, 2013, 2010, 2007, 2003 & older versions.
100 % Safe and Secure.

Free technical Support 24*5
These features are the solved mysteries to recover Outlook PST data without any tampering and security breach.
Many people search for Stellar Outlook PST Repair Tool with Crack, and Stellar Repair for Outlook with Crack; which show their vulnerability to data loss.
If you don't want your PST files and Outlook to be prone to data loss or mishandling, then you should go for Stellar PST Recovery Tool.
Purchasing Walkthrough for Stellar PST Recovery Software
So, let us see how you can get this Stellar PST Recovery Software and be less prone to losing your valuable data on Outlook PST:
Click on 'Buy now'.
Choose your pack. (Professional/ Technician/ Toolkit)
Fill in the billing details. Payout.
Get the Stellar Repair for Outlook Activation Key and download the link delivered in your e-mail. Enjoy unlimited PST outlook data recovery. The activation key aka Stellar Outlook PST Repair Tool Serial Key.
Stellar Outlook PST Recovery Software Price
Now, knowing so many features about the Software and going by the walkthrough purchase of the Software, you must know about its pricing details and chose which one you should prefer buying.
Stellar Outlook PST Repair Tool with Crack
Most people go searching Stellar Outlook PST Repair Tool with Crack but these software files on very harsh conditions of increased vulnerability of data-stealing, malware files attack, etc. Further, they hamper the system's security and wellness.
It is quite important to know if your system fits the System Requirements of the software for smooth functioning.
Thus, buy Stellar Outlook PST Recovery Software only from its official website…
Stellar Outlook PST Repair Activation Key
The Activation key is a certain kind of code given to the user during the purchase of the Stellar Repair for Outlook technician Software.
Moreover, during the installation of the software the activation code is asked.
Also, without the activation key, the software can't be run on the system
Minimum System Requirements:
| | |
| --- | --- |
| Processor | Intel-compatible (x86, x64) |
| Operating System | Windows 10, 8.1, 8, 7 |
| Memory | 4 GB minimum (8 GB recommended) |
| Hard Disk | 250 MB free space for installation files |
Now, as you are done with checking system requirements and purchasing the best Outlook PST Repair tool. Therefore, we must proceed with the installation process.
How to Install the Stellar PST Recovery Software?
Once you know your system is compatible with Stellar Outlook PST Recovery Software, you are ready to install it. Follow these steps to install the Stellar Recovery Software:-
Firstly, download the executable file via Stellar Repair for Outlook Download link provided in your e-mail or available directly on the site.
Secondly, double-click the downloaded exe executable file to start the installation. Select Setup Language window is displayed. Select the desired Language.
Thereafter, Click Next. Check 'I accept the agreement'. Then, Click
Select Destination Location dialog box is displayed. Hit Browse to provide a path for the program's shortcuts. Click
Then, the Select Additional Tasks dialog box will appear. Tick the checkboxes as per your choice. Click Next.
Further, the Ready to Install window appears.
Hit Install to start the installation. The Installing window appears and shows the installation process.
Lastly, completing the Stellar Repair for Outlook Setup Wizard window displays. Then, Click
Now, you must check out how to use this Stellar Recovery Software.
Steps to Recover PST by Using Stellar PST Repair Software
Stellar Repair for Outlook (The Free PST Repair Tool) has a user-friendly interface which makes the process too simple and user-centric. Let us know how to recover PST in 7 simple steps:
Firstly, Launch Stellar Repair for Outlook.
A pop screen will appear. Browse or Find the PST file for Recovery.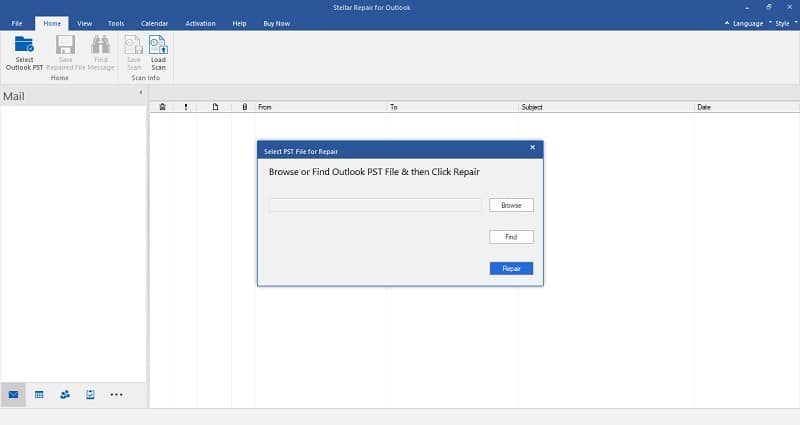 Thirdly, click Repair to initiate the Recovery process.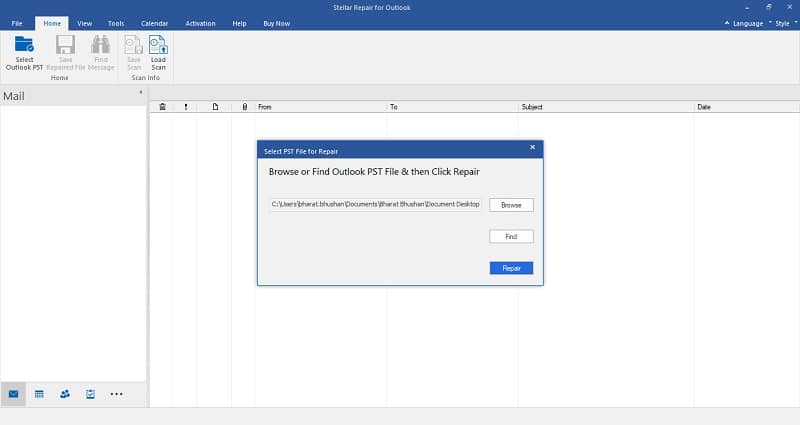 Thereafter, the Repair Complete message box will appear. Hit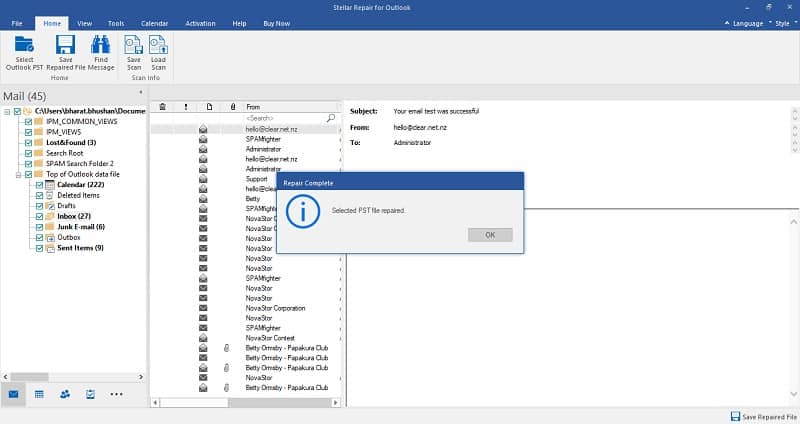 The preview of recoverable PST file items displays on pane window; verify the file data and click Save Repaired File on Home menu.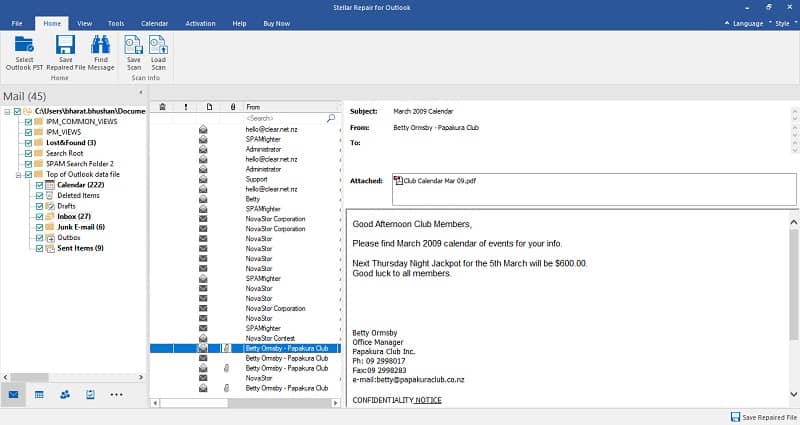 Select the desired PST file format from the pop-up window. Click Browse to select the location to save the recovered file, and then hit OK.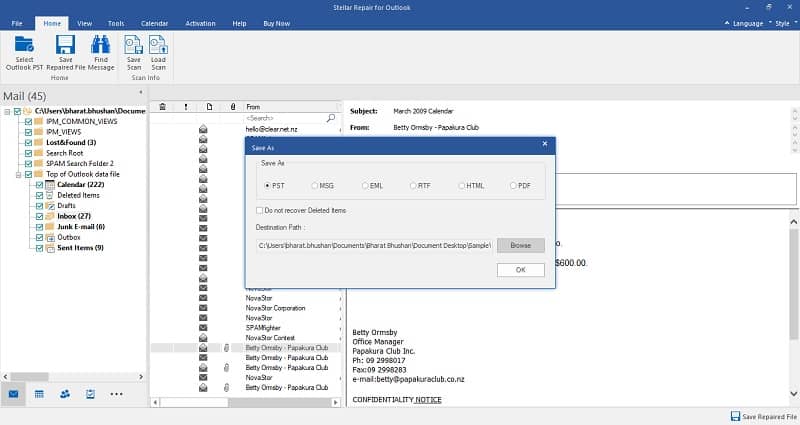 The PST file will now get saved at the desired location.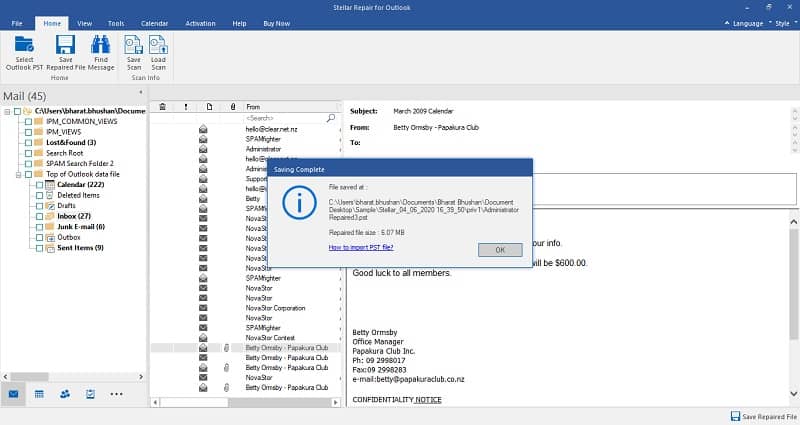 Conclusion
Stellar Repair for Outlook is the best recovery software for Outlook of all versions – 2019, 2016, 2013 & earlier versions. You can download the free version of it to preview and scan your recoverable file items. The product comes in both 1 year and lifetime license variants and furnishes you with unlimited data recovery of any size configuration.
What could be more convincing than the real life experience of its users?
So, here are some testimonials:
Stellar Outlook PST Recovery Software Reviews
"The product is very easy to use. The user-centric interface is quite tempting. Once you start using Stellar Phoenix Mailbox Exchange Recovery, you will see that recovering PST files from Exchange database failure isn't that difficult – actually, you can recover your data with just a few clicks in a few minutes."
Srdjan Stevic, Microsoft MVP
"In my opinion, Stellar Repair for Exchange is a must-have tool for all Admins. Not to prevent disasters but the application is also there to mitigate disasters in a short time thus reducing the downtime, administrative effort cut down to a bare minimum and happy users get back on their devices and access their important data."
Allen White, Infrastructure Consultant
"I can honestly say I loved Stellar Outlook Repair product. This application is not only cost-worthy but also has amazing features such as a user-friendly interface, scanning speed, flexible recovery & export option & live preview option. I would definitely give a 5/5 rating where the software met and exceed my expectations."
Krishna Kumar, Exchange Expert and Microsoft MVP
FAQs
What are the features available in the demo version of the software?
The demo / free version of the Stellar Repair for Outlook free software allows you to scan and preview recoverable Outlook Mail Items.
Once you are ascertained the effectiveness, use, and reliability of the Stellar PST Repair tool free features, you can buy and activate the trial version of the product and save the recovered mail items.
How much time does the software take in the recovery of files?
There is not a certain time fixed for the recovery of files. The time taken wholly depends upon the size of the corrupt PST file and the extent of corruption. It would take more time to recover severely corrupt and files of large configurations.
What should I do when I am not able to fix the Corrupt PST file by using ScanPST.Exe?
ScanPST.exe freezes unexpectedly and it is incapable to fix severely corrupted or large files. You must go for Stellar Repair for Outlook Software for fixing any error in Outlook.
I am unable to open the PST file even after repairing it. How do I solve this issue?
You can resolve this problem by setting up the recovered PST file as the default for your Outlook profile, steps are as follows:
Firstly, go to the Control Panel in your system.
Secondly, click Mail > Data Files
Then, locate the PST file from the list.
Select the file and click Set as default.
Lastly, close all windows and open Outlook.
Now you should be able to access all your recovered mail items through Outlook.
We hope this blog answered all your queries regarding ScanPST.exe (Default Inbox Repair Tool), Stellar Repair for Outlook, PST Recovery tool, and best PST Recovery tool.
Post your further queries in the comment section and let us know if we can help.
Stay tuned for further updates!