How to Find Your Router's IP Address on Various Platforms?
5 min read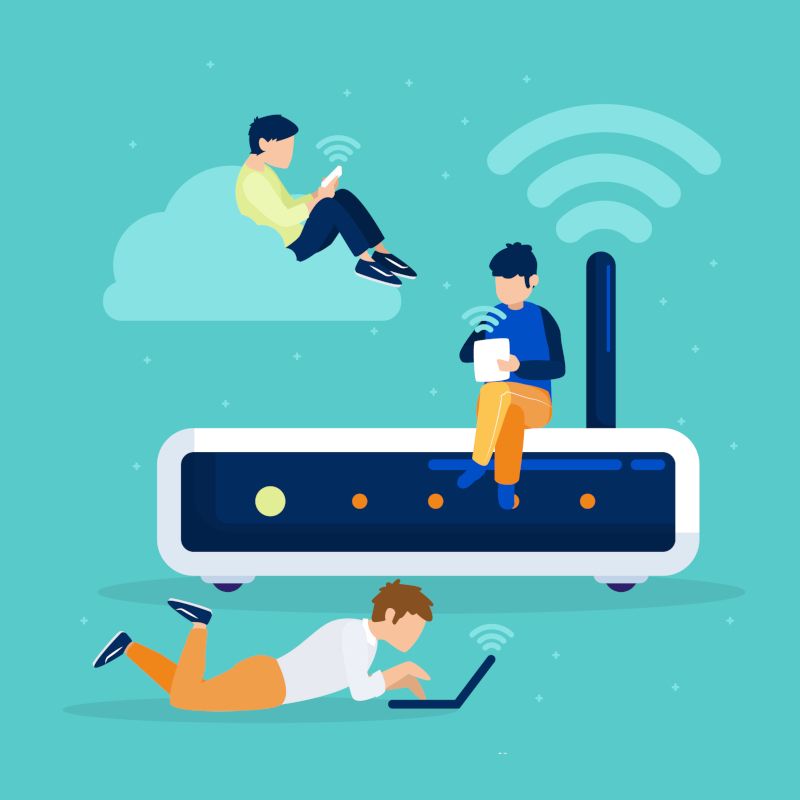 If you've ever needed to access your router's setup page to make some configuration changes create a new Wi-Fi password, or use a different channel to boost your internet speed. These functions are accessible through your router's log-on page, but you can only get there if you know how to find your router's IP address.
If you've forgotten what that IP Address is, here we have discussed – "How to Find Your Router's IP Address on just about Every Platform".
What is My IP Address?
An Internet Protocol (IP) address is a unique string of numbers that identifies the devices in a network. It's kind of like a mailing address that lets the mailman will know exactly where to drop off your packages.
IP addresses can be public or private. A public IP address is assigned to you by your Internet Service Provider (ISP). While a private IP address is what allows all your devices to communicate with each other over your private network.
In order to be connected to the outside world, devices with a private IP address need to connect to a public IP address, usually through a modem.
Steps to Know your Router's IP Address in Windows
Your router's IP address is the "Default Gateway" in your network connection information on Windows. If you prefer using the Command Prompt, you can find the default gateway for any connection quickly by using the IP config. command.
If you prefer, you can also find the default gateway address through the graphic interface.
Step 1: First, open the Control Panel. Just click Start, type "control panel," and then hit Enter.
Step 2: In the "Network and Internet" category, click the "View network status and tasks" link.
Step 3: In the upper right corner of the "Network and Sharing Center" window, click the name of your network connection.
Step 4: In the "Ethernet Status" window, click the "Details" button.
Step 5: In the "Network Connection Details" window, you'll find your Router IP address listed as "IPv4 Default Gateway."
How to Find Router IP Address on Android
While there are some Android apps or Router IP Address Software that can identify your router's IP address, it's easier and safer to just check it yourself in your network settings.
However, the exact wording of menu options may differ depending on your brand of Android smartphone, but the basic process is the same.
To find your router IP address on Android
Step 1: go to Settings and select the wireless/connections/network menu.
Step 2: Then, select the network you are currently connected to and access additional or advanced settings.
Step 3: In these advanced settings, switch the IP settings from DHCP or dynamic to Static. Your router IP address will then show up under Gateway.
Although, you don't have to save this new setting since you now have the information you need. Switch back to a dynamic IP address or exit without saving to avoid the disadvantages of static IP addresses.
How to Find the Router's IP Address On iOS
Finding My "Router IP Address" on iOS couldn't be simpler.
First Go to Settings > Wi-Fi and select your current network.
This then shows you more details and settings about your Wi-Fi connection. Then, check the section detailing your IPv4 address and you'll find your Router IP Address Login next to Router.
Know your Router's IP Address on the iPhone and iPad
On an iPhone or iPad, you just go to – Settings > Wi-Fi and then tap the name of your Wi-Fi network. You'll see the router IP address listed as "Router".
How to Find my Router IP Address Mac OS
Mac makes it very easy to find your IP address in the right settings.
Step 1: Open System Preferences from the Dock — it's the gear-based icon.
Step 2: Select the globe-shaped Network icon.
In the next window, where it says Status: Connected, look immediately below and you should see information about what network you are connected to and what your current IP address is. However, we want the router's address, so let's move on.
Step 3: Click the Advanced button.
Step 4: Select the TCP/IP tab on the following screen. This will break down more specific address info for your router if necessary.
How to Know your IP Address in Linux
Most Linux desktops have a network icon in their notification area. Typically, you can click this network icon and then select "Connection Information"—or something similar. Look for the Router IP Address Login displayed next to "Default Route" or "Gateway".
And now that you know generally what to look for and where, you should also be able to find your Router IP Address List without too much trouble on devices we haven't covered, too.
Any device that allows you to connect to the network and view information about the network connection should display it. Just look under the Network Connection Settings for anything listing a gateway, router, or default route address.
Wi-Fi IP Address Finder in Chrome OS
If you're using a Chromebook, then click the notification area at the right side of your taskbar, click the "Connected to [Network Name]". An option in the list will pop up, and then click the name of the wireless network you're connected to.
When the network information appears, click the "Network" tab and you'll see the router's address listed as "Gateway."
Learn More about your Router
Now we hope that you have understood – How to Find Your Router's IP Address on a variety of platforms. But there's a lot more you can learn about your router.
So, why not read about ways to Improve Your Router Speed Online. From reboot schedules to setting tweaks, there are a variety of simple ways you can make your router's connection faster without replacing the entire device. Just search online and follow some easy steps to do so.
Now, we will put an end to this blog. If you face any query related to your router Wi-Fi or IP Address Finder, then feel free to reach us through the comments.
Till then, stay tuned as we will be back with more such beneficial blogs……………