How to keep a MacBook's Battery Healthy
3 min read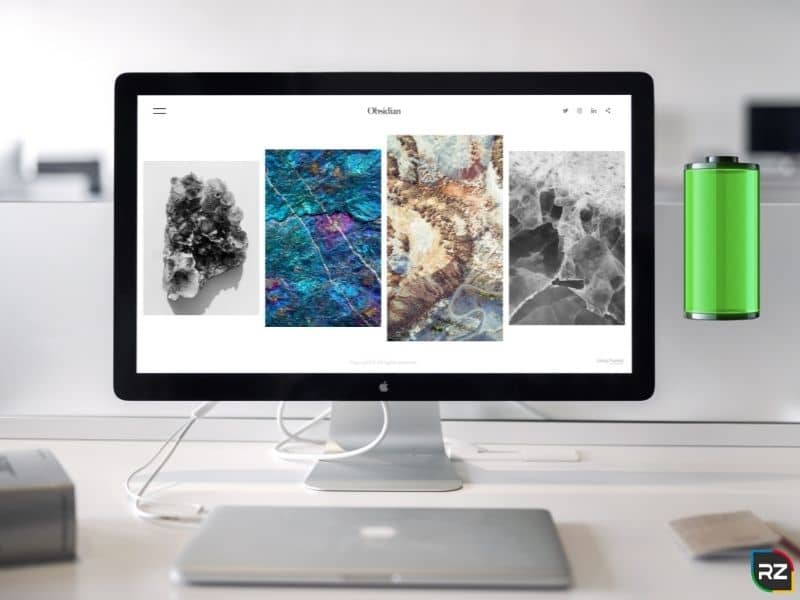 Looking for ways on How to Keep a MacBook's Battery Healthy? Go through this blog and try out the methods discussed here… You will for sure find the solution to your problem…!!
Apple devices are appreciated by everyone… as they are a mark of trustworthiness as well as lavishness.
When we or you or anyone, purchase an Apple device… a huge amount of money is spent and so, the device is expected to be perfect from every possible aspect.
Usually, apple devices provide their users with incomparable excellent results… However, very often, certain issues arise… rendering users in trouble.
One such issue we are observing apple users complaining about these days… is the battery issue.
Now the thing is that Apple's recently launched products… say a laptop or anything else comprises extended battery life already…
Yes… you heard it right…!!
Recently launched, M1 MacBook Air & MacBook Pro comprises far better battery life… as compared to the previous laptops… But yet the people are encountering battery issues in these MacBooks also.
In case if you are the one… encountering issues with either of these MacBooks or any previous version of MacBook… we just want to clarify one thing… you don't need to worry…
As there are proven working steps… onto how to preserve MacBook pro battery lifespan or how to improve MacBook battery health.
Here below we will guide you efficiently… onto how to preserve MacBook air battery lifespan…
Moreover, will be briefing you on How to check your MacBook's battery health.
So, without any further ado… let's go…
How to Keep a MacBook's Battery Healthy
Here you will be getting ways onto how to maximize MacBook's Battery Lifespan… MacBook Pro & MacBook Air…
Enable Low Power Mode
macOS Monterey OS facilitates low power mode on MacBook.
This feature extends MacBook battery life… with the Low Power Mode…. Henceforth, managing energy-intensive apps and processing.
Moreover, the mode direct power when you require to get the maximum out of your battery…
Here below, find the steps to how to enable low power mode, supported MacBook models…
MacBook (Early 2016 & later)
MacBook Pro (Early 2016 & later)
Steps onto How To Enable Low Power Mode
Click on Apple Logo from the top Mac menu
Click System Preferences > Battery > Battery from sidebar
Enable Checkbox "Low Power Mode".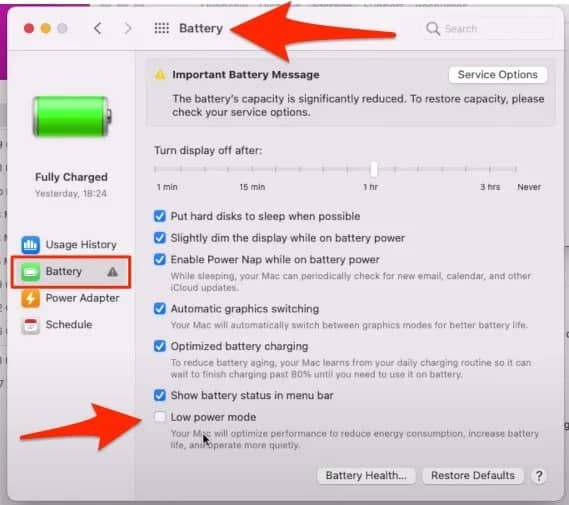 Also, you can check out more settings and Boost MacBook battery life from Battery Cycle Count.
Facing Data Loss on Your Mac System… 
Update macOS & Applications [How to Save Battery On MacBook Pro 2020]
Whenever it's about… how to boost up MacBook's battery life or how to preserve MacBook pro battery lifespan, updating MacOS & the installed applications in it is a  very vital aspect to consider.
According to experts,
Keeping the MacOS and the applications installed in it update
How to Preserve Battery Health On iPhone
d… improves the battery life to a very large extent…
Usually, the MacBook comprises M1-optimized apps… so instead of updating them manually… you need to turn on automatic updates for both the macOS & Applications.
Below, will be briefing you on steps on how to update the macOS as well as how to update the applications.
How To Update macOS
Click APPLE logo.

 

Go to System Preferences
Select Software Updates
Download and install Software Updates.
Note: Here from the same screen, you can enable the Automatic Updates settings also.
How To Update Applications
Go to the Mac App Store
Click Updates in the sidebar
Hit Update All button to start the update for all the apps.
Often, updating macOS leads to data loss. If happening or happened so with you… go for…
Use Energy Saver
Despite the fact that these days, MacBook comes comprising M1 optimized apps… still often Mac becomes a power glutton. In this sort of situation, you are required to ration its power usage… It's one of the finest ways to prevent critical battery-level situations.
The central hub for battery-saving options is found in the Energy Saver section.
Here're steps on how to Use Energy Saver
Click Apple > System Preferences
Select Energy Saver
Turn on Put the hard disk(s) to sleep whenever possible.
In case, if you are not utilizing a network, temporarily turn off Wake for network access.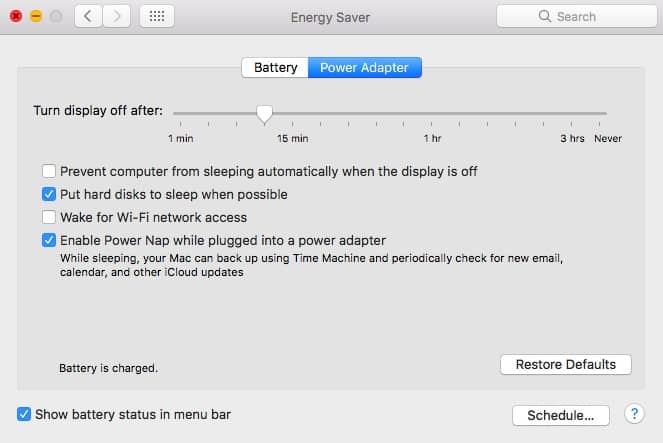 This is one of the finest ways on How to Save Battery On MacBook Pro 2020.
Avoid Chrome (Instead Use Edge & Safari)
It's a worldwide fact that Chrome does make more and more consumption of resources and batteries. However, Apple comprises the redesigned Safari browser with the latest macOS Big Sur update.
Nonetheless, if you are the one still stuck to Chrome for years… it might be tough for you to switch to other private Mac browsers.
Apple has been designed in a way that facilitates its users with battery estimates… now these estimates are given only for the Safari browser.
And if you are having Chrome installed on your MacBook… you need to move to either Safari or you can also go for Edge Browser. As both these browsers are built on the Chromium platform… So, you will be getting all the extensions in this Microsoft Edge browser too.
Optimize Screen Brightness
Despite the fact that a bright screen looks attractive… it shortens the battery lifespan (we think the same is the case with our phones also… no matter whether they are Android OS or macOS).
So, you need to keep your screen brightness in control.
Steps to Adjust Screen Brightness…
Click System Preferences on the Mac dock.
Choose Displays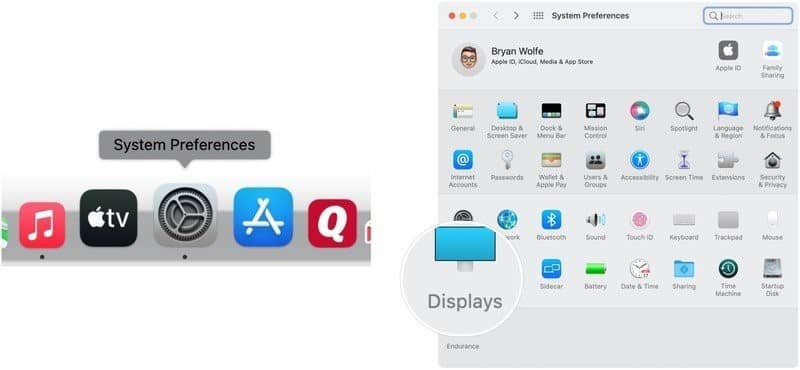 Uncheck the Automatically adjust Brightness box.
Use the Brightness slider to adjust the setting, better matching your requirements.

Adjust Keyboard Backlight
MacBook is designed in a way that its keyboard backlight turns on/off on its own by default, depending on the low light.
MacBook keyboard's backlight stays on in low light, even when there is no activity.
However, both these settings can get changed… to save energy.
In order to change keyboard backlight settings to save energy, do follow the below steps:
Click System Preferences on the MacBook.

 

Choose Keyboard

·       Next, toggle off Adjust Keyboard Brightness in Low Light as required.
·       Toggle on Turn Keyboard backlight off after (time) of inactivity. Here you can choose from five seconds, 10 sec, 30 sec, one minute, and 5 minutes.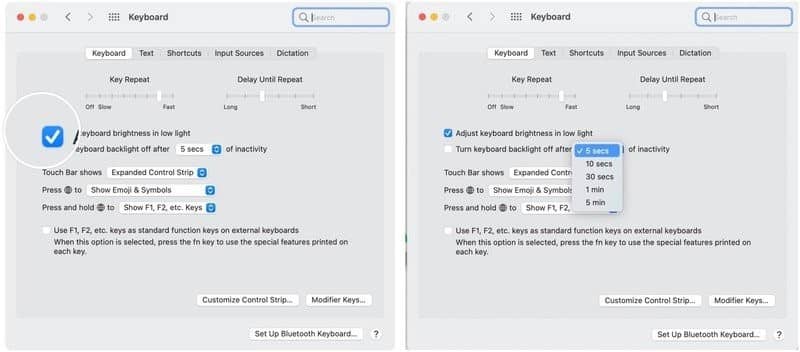 Disable Bluetooth or Wi-Fi
Turned on Bluetooth or Wi-Fi consumes MacBook battery to a very large extent. So, it is advised to turn Bluetooth or Wi-Fi off, in the case when no accessories are connected to the MacBook.
Steps to Turn Off Bluetooth
·       Onto the top menu bar at the right, click Control Center button.
·       Choose Bluetooth. Now toggle off Bluetooth, when applicable.
·       Choose Wi-Fi. Now toggle off Wi-Fi, when applicable.
·       Toggle on both to restart.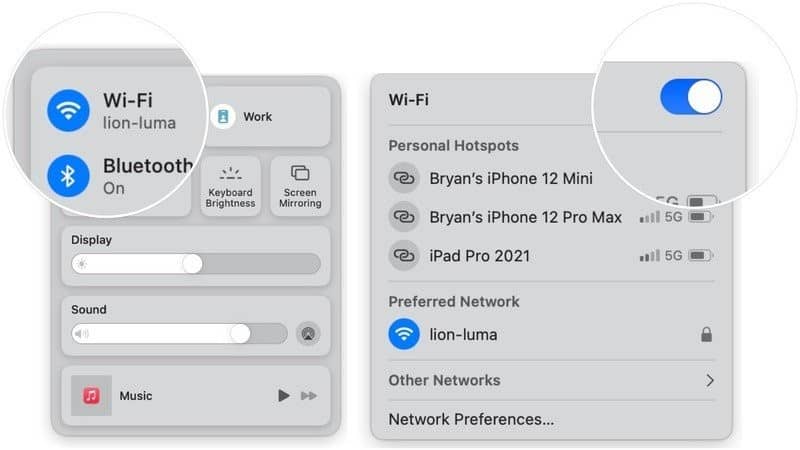 Terminate Background Running Apps
Keep a habit of closing the apps, once done with them. As apps running in the background consumes both the battery as well as RAM to a very large extent.
If you don't believe us, you can check this out yourself…
Check your monitor activity. Here you will see… how much your MacBook's processor is being used by apps, alongside the battery usage.
For Forcefully Closing All the Apps on Mac, Follow the Given Steps:
Click Apple Logo > Force Quit > Select All Apps (Command + A) > Force Quit.
Tweak Spotlight Indexing
Spotlight is a very efficient feature of macOS, enabling its users to search for anything they wish onto their Mac system.
Nonetheless, this spotlight does require an indexing procedure, which affects battery lifespan or its performance to a very large extent…
However, despite the critical situation, the fact is that the issue can be handled… via removing categories spotlight will search.
To Adjust Spotlight Categories, Do Follow The Below Mentioned Steps…
Click System Preferences on the Mac dock.

 

Choose Spotlight

Now, uncheck the items, you no longer need to index on the search results page.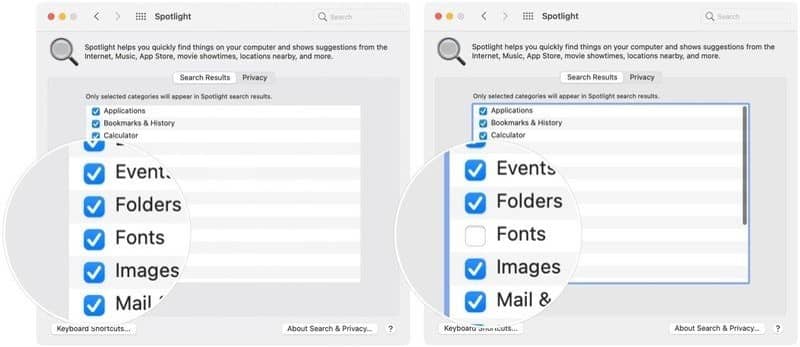 Use Battery Health Management
Battery health management aims at maximizing the battery's lifespan. It never improves or enhances the battery life.
However, the new versions of the MacBook Pro & MacBook Air battery comprise a fixed charge cycle. Moreover, also controls the MacBook to charge to 100%, whenever required.
To Use Battery Health Management, Do Follow the Below Steps:
Open System Preferences
Select Battery
Go to Battery Health

 

Turn on Manage Battery Longevity.
So, here ends up all about How to keep a MacBook's battery healthy or how to preserve MacBook air battery lifespan.
Now besides from MacBook, in the case of the iPhone also… people are struggling with battery issues… So here we have also discussed ways on How to Keep iPhone Battery Health At 100.
How to Preserve Battery Health on iPhone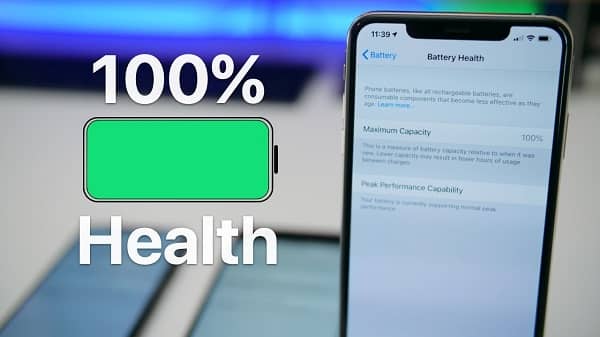 Here below find effective & 100% guaranteed working ways of improving the iPhone's battery health…
Steps on How to Keep Phone Battery Healthy…
Avoid extreme temperatures
Do not let  your iPhone overheat while charging
Make use of MFi charging accessories only.
Enable optimized battery charging
Turn on or activate Auto-brightness & Avoid Full Brightness
Go for overnight charging
Use Wi-Fi & go for the right Wi-Fi setting.
Turn off Auto-Join Hotspots
Avoid using slow Wi-Fi networks
Manually select Wi-Fi… when you are connected to multiple internet routers at the same place.
Practicing all these things in your daily life can help you out at how to keep iPhone battery health at 100. 
iPad Battery Charging Best Practice
Below mentioned are the measures on How to keep your iPad battery at 100…
Turn Off Wi-Fi
Turn off 4G cellular data
Deactivate AirDrop
Deactivate Handoff
Turn off Fetch New Data
Use Auto-Brightness
Decrease motion & animations
Now that's all…
Hopefully you enjoyed reading the blog dedicated to answering the question: How to Keep a MacBook's Battery Healthy.
The same sort of blog will be updated in the future… So stay tuned…
Thanks…!!