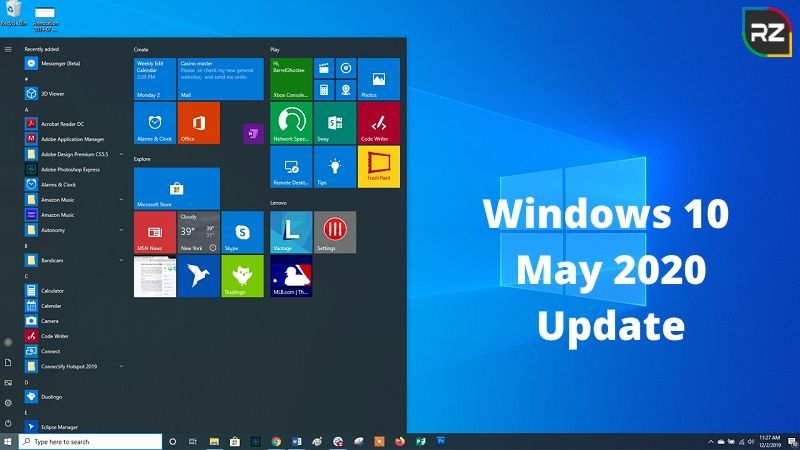 The Windows 10 May 2020 Update, the first full Windows 10 update that Microsoft is releasing in 2020, is set to bring in a whole lot of fresh features and performance refinements to Microsoft's popular operating system.
As Windows 2020 Release Date is round the corner, it's important for the users to know what all new features Microsoft is awarding to us. Therefore, in this blog, we will see about all the new features of Windows 10 May 2020 Update and how to install it.
Windows 10 May 2020 Update Release Date

Microsoft is all rolling up with Windows 10 May 2020 Update, by bringing new features to help with speed, productivity, and security.
The New Windows 10 Update also known as Windows 10 2004 version and Windows 10 20H1 Download, and formerly referred to as Windows 10 April 2020 Update – is expected to start rolling out to mainstream users on May 28.
It looks like we have to be patient, if we want to install a new Windows 10, 2020 Update & Download. A possible zero-day exploit and Microsoft will first patch before the new windows 10 can be released to OEMs and then end-users.
What All New Features Will be Available in Windows 10 May 2020 Update?
The Windows 10 May 2020 Update includes a number of changes for users, according to Microsoft:
Cortana
According to Microsoft, Cortana is evolving into a "Personal Productivity Assistant" that can help you use Microsoft 365 apps. Cortana will be undocked from the taskbar so that you can move or resize it like any other app.
An improved email feature lets you use Cortana to create emails (for example, you can say, "Send an email to Mary letting her know I'm running late" or "Show me emails from Jeff"). An improved calendar also lets you do the same to create and ask about meetings. And Windows lets you use the assistant to open apps and adjust settings like brightness.
Search Home
Access four quick searches to your Search Home for easier access: weather, top news, today in history, and new movies.
Kaomoji
Microsoft also adds Kaomoji – like ¯\_(ツ)_/¯ – to its keyboard shortcut along with other emoji.
Virtual Desktop
You can now rename your virtual desktops, instead of getting stuck with the system-issued names like Desktop 1.
Automatically Open Apps
Opt into a setting to automatically open Universal Windows Platform apps after you restart your machine.
Bluetooth Pairing
Pairing Bluetooth devices with your machine will occur through notifications, so you won't need to go to the Settings app to finish pairing.
New Tablet Experience for two-in-one Convertible PCs
Available in beta for Windows Insiders, when you detach your two-in-one's keyboard, you'll still keep the familiar look of your desktop without interruption, while still optimizing the screen for touch.
Other Features Improved in Windows 10 Latest Update are:
Notepad
Windows search improvements
Windows sandbox and virtual desktops
Task manager
Accessibility
Accounts and security
Passwordless sign-in option
Direct X and ray tracing improvements
The calculator can be set to be always in top
How to Download Latest Windows 10 Update
Microsoft recommends that you update, of course, but it's not mandatory – unless you're about to hit an end-of-service date for the version you're currently running. You can find out more about the update process on ZDNet.
To see which version of Windows 10 you have – go to Settings > System > about and scroll to Windows Specifications – where you'll find the edition and version number.
If you have version 1903 (released in May 2019) and want to keep it, you have until December 2020 before support ends. And if you have version 1909 (released in November 2019), you have until May 2021 to update.
Thinking to Install Windows 10 1909 Version?
Microsoft Windows 10 1909 is available for compatible devices that you'll be able to update through Windows update. It should be downloaded as it includes fixes and improvement compared to the previous version.
If you are using the May 2019 update, you should install it and if you are using October 2018 or April 2018, the answer is still yes, but with more caution.
Even if the update is ready, Microsoft won't push your devices till the end of service until months later. It generally means that it requires more testing before making it available automatically.
So, here we will put an end to this blog for – Windows 10 May 2020 Update. We hope you found this blog informative.
If you want us to write more such blogs then leave a comment in the comment box below.
Till then, Stay Tuned…………