5 Top Social Media Platforms for Business 2020 | Social Media Trends Today
7 min read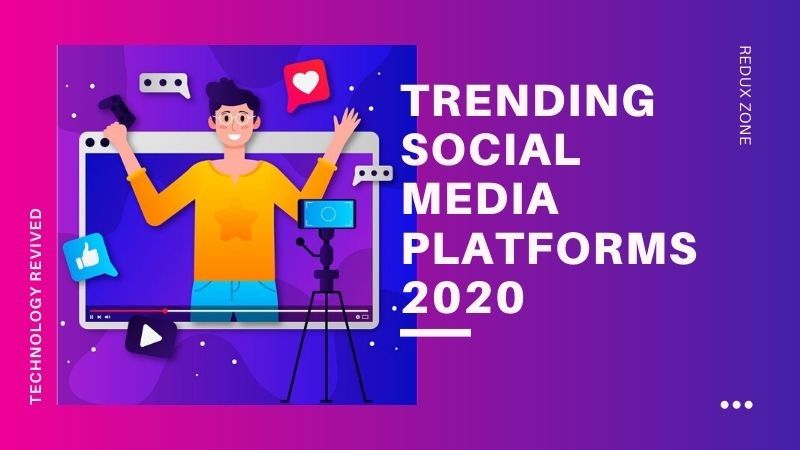 Read this blog to know about Top Trending Social Media Platforms 2020, Latest Social Media Marketing Trends and Best Social Media Platforms for Business………….
According to Reports, most of the people spends most of their Time on Social Media, and it became an integral part of our lives and daily routines.
In 2019 there is around 2.77 billion people using social media, and with cheaper internet connectivity and easy access, it is expected to reach 3 billion more people by 2021.
However, it would be better if one wouldn't be addicted on social Media and make the best use of it. You can do it by just implementing it in a different way and its importance in consumer's live, marketers and business flock to social media in the hope of connecting with their valuable customers.
Content plays a very important role. This is because there is lot of content available on social media. And you can stand out only if you have a unique Social Media Strategy.
Therefore, we will discuss about some Trending Social Media Platforms 2020 sites in this blog that you can use to gain customers and target the specific audience. Furthermore, we will also try to cover some top Social Media Trends for Business.
Trending Social Media Platforms 2020
Whether you are a seasonal social media marketer, a marketer who is looking for a venture into social media, or maybe a business owner looking to leverage on social media, it's helpful to know the most popular Social Media Marketing Trends 2019 and Social Media Platforms for Business 2020.
To make things easier for you, we have made a list of top 5 Trending Social Media Platforms 2020 for you.
Let's dive in……….
Facebook
Facebook is the largest social media platform in the world and it can be said that every social media user is on Facebook, and it became one of the excellent platform for brands to market their products to a larger audience.
FB users can share texts, posts, link, and video with their friends, follow famous brand, peoples to react on their post. Brands and pages can promote their products through ads to target audience.
For Business
Whether you are looking for Brand Awareness, website traffic, engagements, lead generation, you should use Facebook wide user base demographics for detailed targeting and because of it, it's on our top list and to make page visible use Facebook advertising.
Instagram
Instagram is one of the fastest growing app and most trending social media site, users can also access the feeds through the website version and it reached 1 billion active users in 2018.
It is a visual platform, you can edit your clicked photos through Instagram editing options and it is popular among the younger generations, As per Reports by statistic, 32% of users are aged 18 to 24 and 33% of users are aged 25 to 34.
For Business
Instagram has same benefits of FB, and also some great organic benefits, and when we use the term Organic through which you perform results without directly paying for advertising.
And on Instagram you can grow your followers organically and row through your post organically and it makes Instagram a great option for both business with and without Budget.
Twitter
Twitter is an platform that let users stay on top of trending topics and engage in conversations, it is used for sending some specific information, it has approx. 326 million active user and it doesn't have many users as on other social media profiles, but it have high engaged user community.
Twitter users send out at least 500 million tweets per day on average, and it promotes customer engagement.
For Business
Twitter is a best engaging new potential customers through the use of hashtags as similar to Instagram and find other posts from consumers and businesses used that hashtag.
LinkedIn
LinkedIn is a social media site for Professional as well for Business offering B2B marketing and LinkedIn can be a powerful tool for you.
This platform is rapidly growing and has currently 610 million members, and expand their connection according to their profession and it allows members to post blog on the platform.
For Business
LinkedIn is considered to be a platform for business and people share accurate information about their job profile, employers, work email address, its advertising platform is not advanced as Facebook, but it does give you a lot more job positions to target than Facebook does.
Snapchat
It is another highly visual social media platform and popular among the younger generation and it allows user to send their Snapchat directly to their friends or to their story
There are over 350 million monthly active users and 203 million users' active daily on Snapchat.
For Business
Snapchat offers advertising options where you can pay for link able Snapchat in the discovery section of Snapchat.
Between organically posting on your Snapchat story and paid advertisement in your story and Discovery feed, it is sure to reach your market on one of the youngest and fastest growing social media site.
Also, there are many more New Social Media Platforms 2020 like TikTok, Reddit, etc, that have gained popularity now and are trending Social Media Platforms 2020.
Social Media Marketing Trends 2020
Social media strategy is usually followed to gain popularity and the social media trends to watch. Thus, here we have mentioned some Top Social Media Trends Today that are breaking the internet.
Video Content is the new King
Advanced, dynamics and direct social ads
Brands revaluating the metrics that matter most
Brands are putting influencer under microscope
Stories aren't slowing down
Make your audience integral to your content strategy
Rethinking about social platform that deserve attention
Marketers are accountable for their performance data
Niche social media platform is performing well
Social media is always changing, so keep updated to run along with the trend. And that doesn't means you have to start from scratch just work on what's working around it and it will make your year successful.
Trending Social Media Consumer 

Behavior
Buyers are now available on social media platforms than ever before. And after selecting the products, they look for the review so it is necessary to keep Reputation management.
Consumers need brand awareness and its offering and you need a social media influencer to convince them. Consumers always looks for attractive and informative content and it just melt down the consumers
Build Product Awareness
Social media creates a huge influence on consumers. This is because they want to build product Awareness, and the aim of every business is to influence consumer behaviour.
Brand presence on social media also plays a very important step to influence consumer behaviour.
Promotions, Discounts and Deals on Social Media
Most of the consumers see promotions, discounts and deal on social media, as it influences buying behaviour. Moreover, it is an inexpensive platform that gives brands reach to millions of social media users and ensure that they like, share and comment which helps to influence consumer behaviour.
Social Proof as a Greater Force of Buying Decision
Social media has resulted in the evolution of social proof as a greater force for buying decisions. It has emerged due to the tendency of people to imitate the behaviour of people around them or people imitate people who have influence over them.
Happy customers tend to go about praising the products with likes, shares, reviews and comments on social media. Marketers are making social space more transparent. By sharing reviews, comments, likes, tweets and pins of their happy customers to generate brand trust and increase conversion rate.
Social Media Influencers
Consumers more likely to buy the products when they get review and recommendation from the person they trust.
As all of us know and sees that celebrities promotes the products, as they have huge fan following. And if any product is recommended by them it leads to conversion in a huge rate.
Influencer marketing can work wonder for your brands by attracting more consumers. Therefore, many of the brands are replacing celebrities by YouTube, Instagram, Snapchat influencers as they give genuine feedback and new content and customers loves it.
Social media has occupied an important position as a communication tool. People across the globe use social media to connect to other people or organizations.
Research studies have shown that many people rely on the information and reviews on social media. This is because it acts as a guide for planning their future purchases. It includes the content, visuals, promotions, discounts and influencers. And all of these have the ability to influence the buying behavior of consumers.
Thus, the effects of social media on consumer behavior cannot be ignored by brands and businesses.
So, here we put an end to this blog for "Trending Social Media Platforms 2020". We hope you enjoyed reading this blog.
Till then, Stay Tuned……….