How Do I Fix Error 0x80004005 in Outlook?
7 min read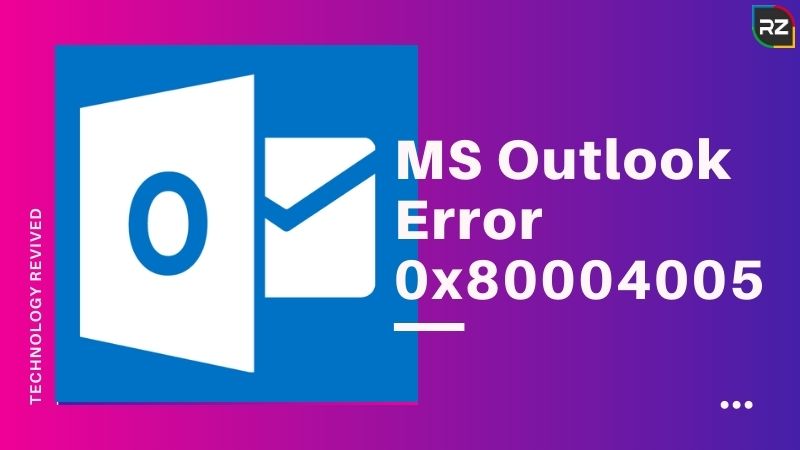 Microsoft Outlook is widely used by businesses and home users as an email client. There have been multiple occasions when users experience error messages that frequently occur while using this application. A best and common error is undoubted "Outlook Error 0x80004005" which also shows as "Error 0x80004005: The Operation Failed".
MS Outlook Error 0x80004005 is one of the most frequently found errors in Microsoft Outlook software. But it is nevertheless frustrating as it does not allow you to open the received emails.
If you have also encountered this outlook most annoying Error 0x80004005 and want to get rid of it,  then follow these solutions mentioned in this blog to fix it. But before that let's look at in what situations can it arise and what are the causes of error 0x80004005.
However, if in a hurry, you can quickly download the software to fix this Outlook error…
Free Download Software To Fix MS Outlook Error 0x80004005
What does MS Outlook Error Code 0x80004005 Mean?
This particular error 0x80004005 concerns all versions of Windows and occurring in particular in situations where uses are not able to access an application, service, or device for unexpected reasons.
Following are the scenarios in which, the access issues along with the error code may appear:
Installing a Windows update or program
Software update
Starting a virtual machine
Connecting to a network
Access to shared network resources
Receiving emails in Microsoft Outlook
Decompressing a compressed file
Even if error 0x80004005 is an unusual Windows error, it can occur in a wide variety of situations. We know that the cause of the error does not lie in the faulty functioning of the system, but on incorrect or missing parameters or files of the apps, services, or devices concerned.
But there are some approaches to Fix MS Outlook Error 0x80004005 that are more focused on the context in which the error 0x80004005 occurred.
Click here if looking solutions for – How to Fix Microsoft Outlook Error 0xc0000005
Causes of Outlook Error 0x80004005
Error code 0x80004005 typically happens when:
There is a problem with Windows Update
While moving or renaming files and folders
Windows notification issues
Problems opening or extracting compressed files and folders
Apart from that other most common causes of error code 0x80004005 include:
Script Blocked by an Anti-virus
Many times, anti-viruses in your PC can easily spot harmful code in an application even if it is clean. And with their feature of script blocking, your antivirus may block some script working on Outlook. This can appear an error code 0x80004005
Malware Attacks
Malware Attacks on the Outlook files can be one of the main reasons to stop the scripts to run correctly and be the main reason for outlook error 0x80004005
Missing or Corrupted Registry Keys
Registry Keys are those which store settings, hardware devices and software programs, user preferences, and most important OS configurations. For an Outlook error 0x80004005 to come, it is enough if these keys get affected by any damage thereby hampering the functioning of Outlook.
Solutions to Fix Ms Outlook Error 0x80004005
How Do I Fix Error 0x80004005 in Outlook?
If you are also looking for solutions to Fix Ms. Outlook Error 0x80004005, then follow the below mentioned manual steps.
Solution 1: Uninstall Norton Antivirus
Like any other antivirus available, 'Norton Antivirus' also has the script blocking feature which may cause Outlook 2016 Receiving Error 0x80004005. To avoid such error, it is recommended to uninstall Norton Antivirus from your system.
Follow the below steps to uninstall Norton Antivirus:
Step 1: To begin with, use the Start menu of your Windows PC and go to the Control Panel. Then, choose Programs and hit on the Programs and Features.
Step 2: In the list displayed, select Norton Security software. Subsequently, click on Uninstall/Remove button.
Step 3: Once done with this, a User Account Control window will appear where you need to click Yes.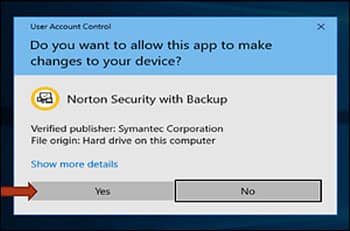 Step 4: After clicking, you can go along with the on-screen instructions. Wait until the uninstaller does its job.
Step 5: After uninstalling it, restart your computer for the changes to reflect
Solution 2: Disable the Script Blocking feature in Norton Antivirus
If you don't want to uninstall Norton antivirus from your system and want the Outlook error 0x80004005, not to trouble, you can just do it by disabling the 'Script Blocking Feature' in Norton Antivirus.
This can be done by following the below steps:
Step 1: Begin with launching the Norton Antivirus program in your system. Hit on Options right after that.
Step 2: In the window displayed, select Script Blocking under System on the left panel. And then, simply unselect Enable Script blocking option and click on OK.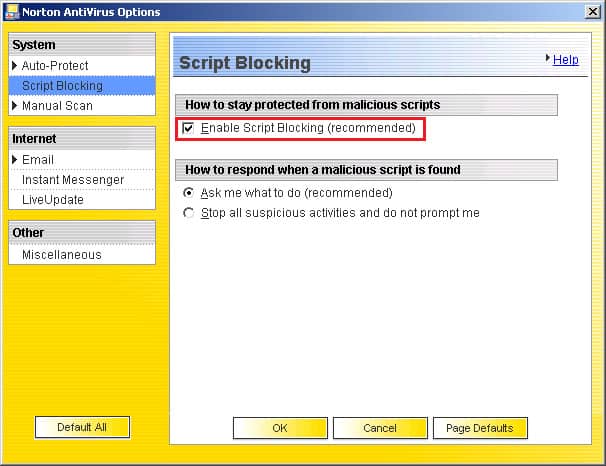 Solution 3: Disable the New-Mail Notification Feature in MS Outlook
As the Outlook error 0x80004005 occurs while receiving email, you can disable the New-mail notification in Outlook such that error doesn't occur. We are demonstrating the steps for outlook 2016.
Follow the below steps:
Step 1: In Outlook, open the File menu, and from the drop-down, select Options.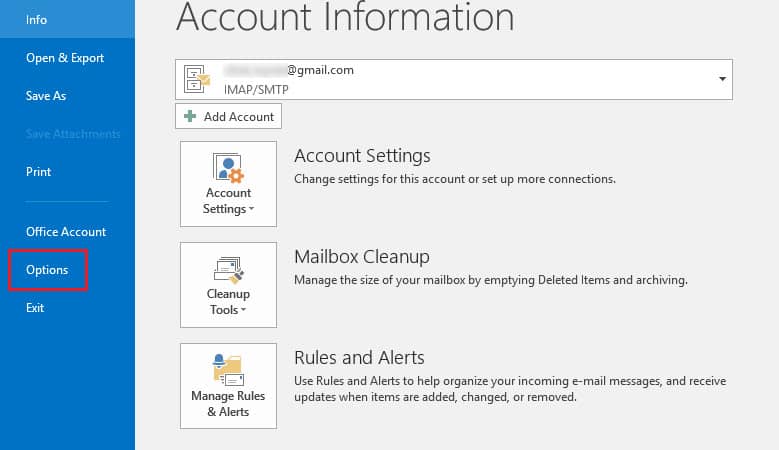 Step 2: In the Outlook Options, Go to the Mail tab. Then, simply uncheck the Display a Desktop Alert option given in the Message arrival section.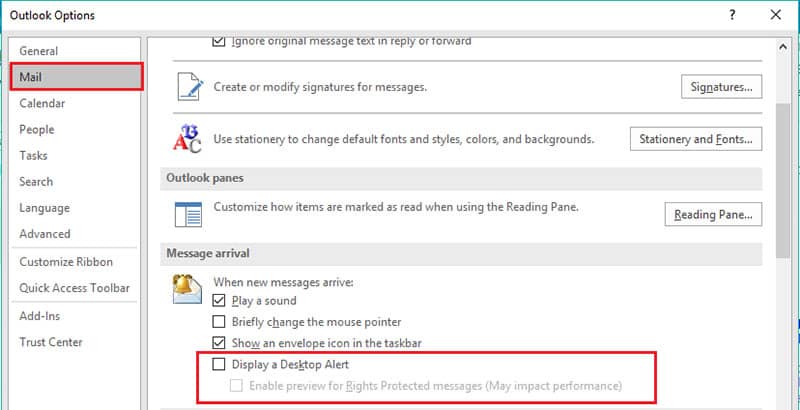 Solution 4: Scan your system for Virus infections
As malware or virus attacks affect the scripts of the applications on your computer. It is very important to scan your system for virus infections regularly.
There are Two Methods to scan your computer for the virus which include:
Method 1: Launch your Antivirus Application in the system and got to Scan and Click on it for the entire system.
Method 2: Open Windows Explorer, right-click on the File or Directory and select Scan to Scan for viruses individually
Solution 5: Clean the Registry
A registry is the Windows storage component that has all the information related to software and hardware installed on the computer.
If any of the files are corrupted in the software, you can just clean up the registry. But it is very important to note that before cleaning the registry you have to take the backup of all the files.
Follow the below steps to take both backup and manually clean the registry:
Step 1: Click on Start to begin. Press Windows + R to open the Run dialog box.
Step 2: Type Regedit and click OK. In Registry Editor, open the File menu and in the drop-down, select Identities.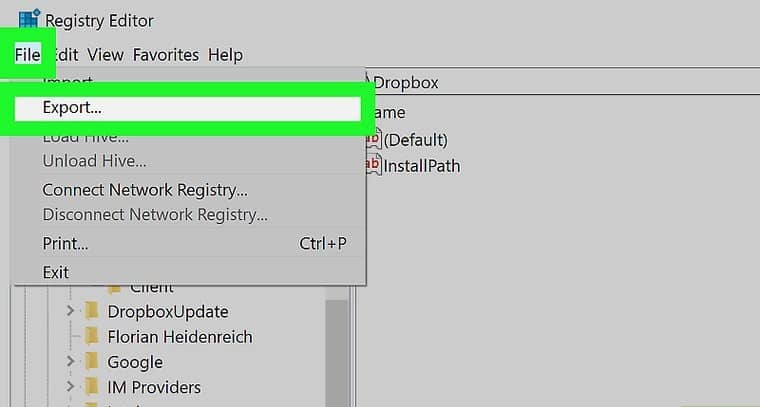 Step 3: In the drop-down, select Export and Save the Backup File. After the backup file gets saved, select the files that are harmful and delete them.
Solution 6: Create a New User Account and Delete Your Old One
This method can be followed if there is no big use with your old account. Because if you delete your old account all the mail preferences and settings will be deleted. If the error still persists, you can create a new user account and access your outlook mail.
 Follow the below steps:
Step 1: Open Outlook at the outset and then select File. Click on the Add Account option. In the next window, enter the details and password and click Next.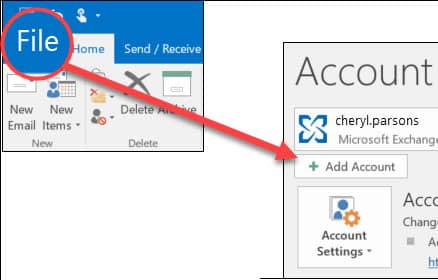 Step 2: In the Next window, if prompted enter your password again and select Ok and then Finish.
Step 3: To delete the old account, in Account Settings, select the account you want to delete and click Remove.
***Tips: if you face this error and lack patient or confidence to fix it, then it's better to take help from a professional person or go for some third-party software.
After you've used all the troubleshooting methods, a Professional PST Recovery Software is worthy of consideration, which could help you out of the dilemma, or with routine maintenance.
One such software is "STELLAR OUTLOOK PST RECOVERY SOFTWARE"
Fix Error 0x80004005 with the help of Professional PST Repair Tool
PST file is the outlook mail user file that contains important data like email contacts, attachments, and calendars.
As this data gets accumulated on a daily basis, the size of the PST files increases which affect the performance of Outlook leading to data loss. If such a scenario arises, it leads to the Outlook error 0x80004005.
Thus, to resolve these errors – a Fast PST Repair Tool – "Stellar Outlook PST recovery software" offers the option to repair the damaged or corrupted PST files.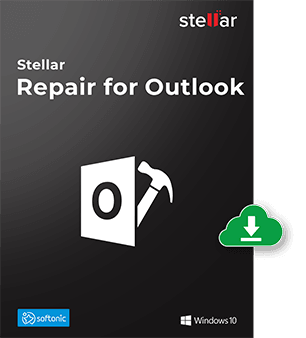 The tool can parse severely corrupt PST of all sizes, and recovers the mailbox data, including deleted emails with 100% precision. It supports Outlook 2019, 2016, 2013 & earlier versions. It has a user-friendly interface that allows you to preview the file before saving and easily import the file to Outlook to access all the mail items.
Salient Features of Stellar Outlook PST Recovery Software
Recovers emails, attachments, contacts, calendars, tasks, notes, etc.
Shows an enhanced preview of the mailbox for precise PST recovery
Splits & compacts PST file, and can export the repaired PST to Office 365 – Technician
Download this PST Repair tool fast, and get rid of your problems……….
Stellar Outlook PST Recovery Software is available in both FREE & PAID version. Here free version allows you to recover the files and then have preview of them. However, in order to save those recovered files… you are required to download them…
The Bottom Line
This article outlined the process to be followed when we receive Outlook error code 0x80004005 in Outlook 2016/2013/2010. It is frustrating and disappointing when you lose all your outlook mail configurations, contacts, files, etc.
You can be stress-free by using the "Stellar Outlook PST recovery software" as it is the easy to use and user-friendly software that helps you to repair the PST files without any technical assistance.
However, if you want to Fix MS Outlook Error 0x80004005 through manual steps, then follow the above-mentioned solutions steps and get back all your lost mail data.