Stellar Outlook PST Recovery Software Review
4 min read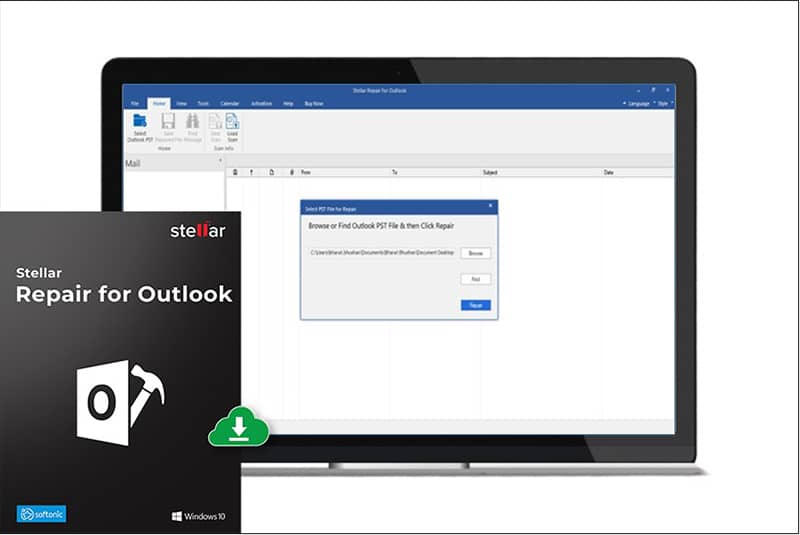 Your auspicious presence on this page is a clear indication that you're aware of Stellar Outlook PST Recovery Software and want to use it…. However, if you are just looking for Stellar Outlook PST Recovery Software Review, in order to get some sort of assurance and all…
Well, we will not let you down definitely…. Here unbiased Stellar Outlook PST Recovery Software Review has been briefed… so as to help you out in making a final decision about the usage of this particular Outlook PST Recovery Software.
Trusted by administrators and users worldwide regarding the recovery of mailbox data from corrupted PST files, Stellar Outlook PST Recovery Software is the best Free PST Repair Tool.
Equipped with numerous powerful and enhance algorithmic skills, the tool includes the potential of parsing severely corrupted PST files…. Regardless of its size and all of course. The software is compatible with Outlook 2019, 2016, 2013 & earlier versions.
Note: Free download version allows you to scan and preview your recoverable mail items. However, in order to save the recovered files, you need to go for its licensed version. This means you need to purchase it.
Ok… this was a glimpse of Stellar Outlook PST Repair Tool. Later on, you will get to know more about it. Nonetheless, before that… we think it's important for you people to be aware of some facts like why there is a requirement of PST recovery software, why PST files get corrupted and etc.
So, here we go…
Why there is a Need for PST Recovery Software?
To understand this, you first need to know about the Outlook PST files…..
Outlook PST files are a set of files that are utilized by the MS Outlook. There are two types of Outlook PST files.
One is the PST file which is also known as the Personal File Folder as well as Outlook Data file.
The other one is the OST file which is also known as the Offline Outlook Data
The difference between these two sets of files is that the PST files reside on the network server and can be stored on the hard disk. While the OST files remain on the hard disk and can be viewed and worked on even when an internet connection is not available.
PST files need to be kept safe from corruption. The reason for this is that they possess a great amount of valuable data. The email messages, for instance, are very crucial for a user.
If the PST file gets corrupted then these messages will get lost. All of the important data contained in those emails will also be lost along with them. However, no matter how hard you try, PST files can get corrupted somehow.
Reasons for the Corruption of PST Files
Following are some of the reasons that lead to the corruption of PST Files:
Issues with Hard Disk:
The hard disk where the PST files are stored is vulnerable to bad sectors. These bad sectors are spots on the hard disk that can corrupt PST files if they get stored on them. If your hard disk has bad sectors then there is a high chance that your PST files will get corrupted quite often.
Presence of Viruses:
Viruses are a major threat to all the files present on the system. They can cause a great deal of damage to PST files also and can cause them to corrupt as well.
Abnormal Closing Down of MS Outlook:
If you are not careful in closing down the MS Outlook software then again corruption of PST files can occur. One of the instances, when this happens, is when Task Manager is used for shutting down MS Outlook. This causes the PST files to close suddenly which can lead to their corruption.
Sudden System Shutdown Due to Power Loss:
If a power loss occurs, causing the system to shut down suddenly. Then the PST files that were open at the moment can get corrupted.
***If you find that your PST files have become corrupt and are no longer accessible to you, then you will have to invest in an Outlook PST Recovery Software.
There are several such tools available on the internet, which claim that they can repair the outlook PST file. However, most of the time these claims are baseless and these tools fail to recover anything from a corrupted PST file.
The only tool that is capable of repairing damaged PST files and recovering content from them is the Stellar Outlook PST Recovery Software which is also available for a free download.
Stellar Outlook PST Recovery Software – Best and Free PST Repair Tool

Stellar Outlook PST Recovery Software is trusted by Administrators and users worldwide to recover mailbox data from corrupted PST files.
This Open Source PST Repair Tool can parse severely corrupt PST of all sizes, and recovers the mailbox data, including deleted emails with 100% precision. It supports Outlook 2019, 2016, 2013 & earlier versions.
Recovers emails, attachments, contacts, calendars, tasks, notes, etc.
Shows an enhanced preview of the mailbox for precise PST recovery
Splits & compacts PST file, and can export the repaired PST to Office 365 – Technician
 Key Features of Stellar Outlook PST Recovery Software
The Stellar Repair for Outlook software restores corrupt PST file of any size, with 100% integrity and precision. It is an efficient tool for recovering all contents such as e-mails, attachments, contacts, calendars, tasks, notes, and journals from a corrupt Outlook PST.
It leverages specialized scanning algorithms to parse severely corrupt PST files and reconstruct mailbox data. Apart from repairing the PST file, it can also recover deleted items from Outlook PST.
Powerful Recovery Solution
Conducts deep scans and search for recoverable data within severely corrupted PST files
Recovers all mailbox components within the files such as emails, attachments, contacts, calendar items, journals, notes, etc.
Capable of Repairing Large PST files as large as 2GB in size
Improved Preview Section
Allows users to preview recoverable items before saving them.
Save any particular email directly from the preview section itself.
Enables you to arrange scanned emails using various criteria such as 'Date', 'From', 'To', 'Subject', 'Type', 'Attachment', and 'Importance'.
Recover Data from Encrypted PST
Supports repair of encrypted & password protected PST files
Recovers data even from password-protected files.
Support & Compatibility
Repairs corrupt Outlook file created in MS Outlook 2016, 2013, 2010, 2007, 2003, 2002 (XP), & 2000
Supports Windows 10, 8, 7, Vista.
Outlook PST File supports MS Office 2016, 2013, 2010 (64-bit version), 2007 & 2003
Technical Specifications
About Product:
| | |
| --- | --- |
| Version | 11.0.0.0 |
| Release Date | July 2020 |
| Edition | Technician, Toolkit |
| Version Support | MS Outlook 2019, 2016, 2013, 2010, 2007, 2003 & older versions |
| Language Supported | English, German, French, Italian, Spanish |
System Requirements:
| | |
| --- | --- |
| Processor | Pentium Class |
| Operating System | Windows 10, 8.1, 8, 7 |
| Memory | 2 GB minimum (4 GB recommended) |
| Hard Disk | 250 MB of Free Space |
How to Repair Corrupt Outlook PST Files using Stellar?
Here we have explained in detail just for you to learn "how to use the Stellar Phoenix Outlook PST Repair" for the purpose of doing the repair of outlook PST file.
Step 1: Launch Stellar Repair for Outlook. Click Select Outlook PST in the Home tab. A pop-up screen will get appear to Browse or Find the PST file for recovery.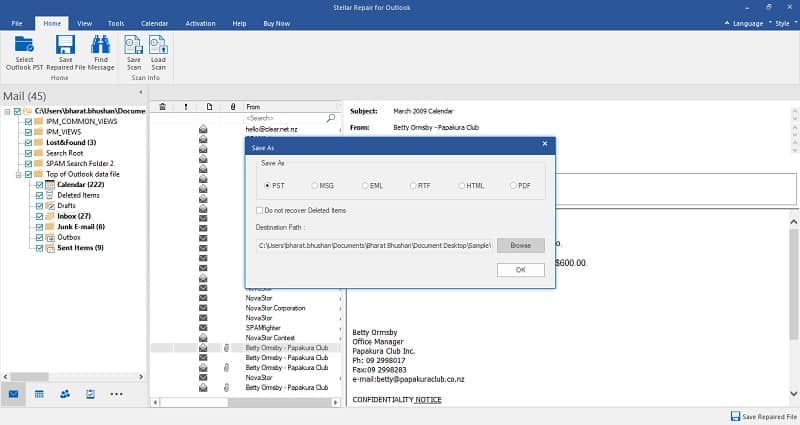 Step 2: Click Browse, if you are aware of the location of the PST file. Or click Find to search the PST. Now, click Repair to initiate the PST Recovery Procedure.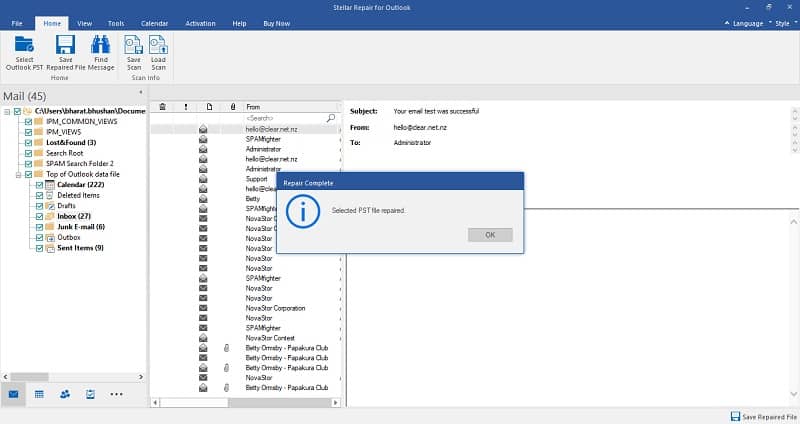 Step 3: The software is scanning the corrupt PST file. Here the estimated scan duration depends on the size of the PST file and extent of corruption.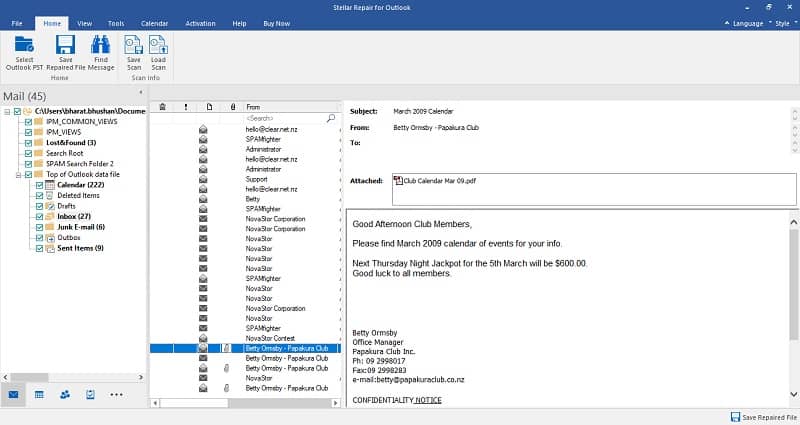 Step 4: Once the scanning gets done, the software previews the recovered Outlook mailbox items in the left pane. Here you can click the folders to preview the items.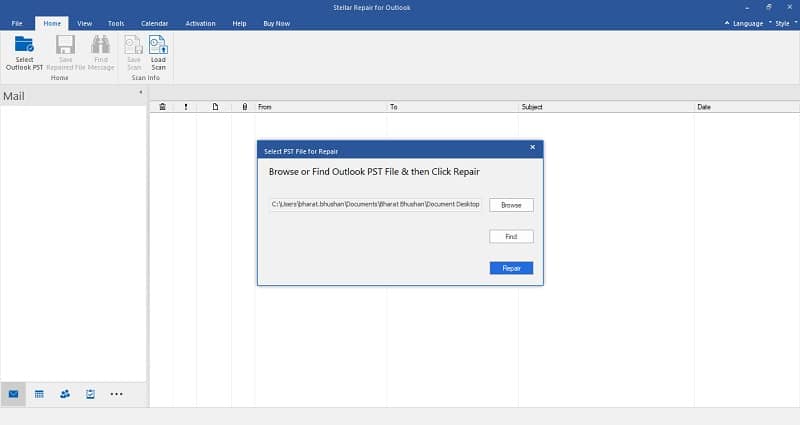 Step 5: Make selection of a specific folder or all items for recovery… click Save Repaired File. Select PST file format from the pop-up window. Now click Browse and then OK to save the mailbox data.
There isn't many PST file repair software available on the internet that are quite like the Stellar Repair for Outlook. The remarkably long list of features that this incredible tool possesses makes it the best option for you to repair outlook PST file.
General FAQs Related to Stellar Toolkit for Outlook:
What is the Maximum PST Size limit for different versions of MS Outlook?
Outlook 2002 and older versions have a PST file limit of up to 2 GB. Outlook 2003 and 2007 have the PST size limit of 20 GB.
How to 'Repair and Compact' a corrupt PST file by using Stellar Repair for Outlook technician?
You can select the corrupt PST file, scan and repair it using the tool and then choose the Compact and Save PST option in the final screen to repair and compact the PST.
Is there any option in the software to find the particular PST file, I want to locate & repair PST file automatically?
Yes, the software provides an option, 'Find' with which you can search all PST files in a selected volume. From the list of PST files, you can choose the one you want and proceed with the repairing process.
What can I do with the Free Trial Version of the Outlook PST Repair Software?
With the free demo version of the software, you can repair the corrupt PST file and preview all the recoverable items in it. If you get satisfied with the result, you can purchase the full version of the software to save the recovered files.
How much time does the software will take to recover my outlook emails?
The duration for Outlook email recovery by using the software depends on the size of the corrupt PST file and the extent of corruption. It would take more time to recover mail items from a severely corrupt or larger PST file.
Conclusion
We hope that this blog for Stellar Outlook PST Recovery Software Review gives you a clear picture of this software. And you can make an unbiased decision of whether to purchase this or not.
But as we have said earlier in this blog itself, that there are many Free PST Repair Tools available online. But when it comes to authenticity, nothing is better than – Stellar Outlook PST Recovery Software.
So, don't waste much time and quickly click on the below-mentioned download link to repair your PST File ASAP.
Start Using Stellar Repair for Outlook Today!!
Here, we will put an end to this blog for – "Stellar Outlook PST Recovery Software Review". We hope you enjoyed reading this. If you have any queries regarding this blog, then feel free to connect with us through the comment section box below.
Till then, stay tuned……………….