How to fix Windows 10 Update Error 0x800f081f?
6 min read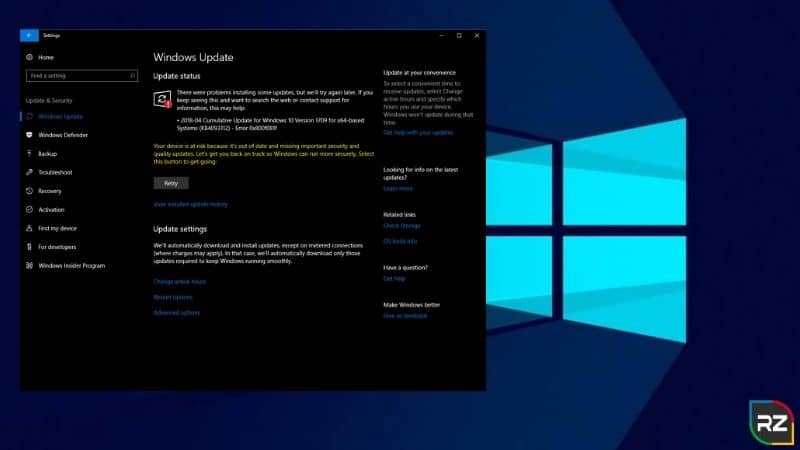 Running a Windows 10 update usually results in some errors. One common amongst them is Windows 10 Update Error 0x800f081f, which shows up when you try to install an update from Microsoft for Windows 10. The update it affects is called Cumulative Windows 10 Update KB4054517.
If you are the one, who tried for Cumulative Update KB4074588, but eventually ended up with an error code 0x800f081f, then don't panic, as in this blog we will help you with some solutions to fix the particular error code.
Windows 10 Update Error 0x800f081f
Recently, many users have faced Error 0x800f081f while updating their system to the Windows 1809 update released in October. Usually, the update seems to be working normally to start with, but when you get close to the end, the 0x800f081f error message is shown together with an "Update Failed" message.
As we all know Windows updates are mandatory. However, there are people who like to wait until the update is cleared of any errors, as this error might also lead to Data Loss and corruption.
The error 0x800F081F – 0x20003 is not a big hurdle and can be dealt with pretty easy methods as discussed in this blog. But the data loss it leads to might be the biggest hurdle for some users.
But, don't worry. We have a solution for you!!!
The lost data can get easily and quickly recovered with Stellar Windows Data Recovery Software. Packed with numerous efficient and highly enhance algorithmic skills, this Stellar Data Recovery Software can very quickly recover files, lost because of any reason.
Now, let's proceed with the main purpose of this blog, i.e., "How to Fix the Windows 10 Update Error 0x800f081f" issue with ease. But before that let's look at the main causes of this error.
What causes Windows 10 Update (KB4074588) Error 0x800f081f
Windows update errors are quite common yet unanticipated. This error can be caused due to the following —
Developer Mode: The error is somehow caused by the Developer mode turned on in which case you'll just have to disable it temporarily.
Windows Update Components: Any other reason could be your Windows update components which are responsible for updating your system. If the components aren't working properly, the error might occur.
But, "How Do I Fix Error Code 0x800f081f In Windows 10?" – so, without wasting any more time, let's get directly into solutions to fix Windows 10 Update Error 0x800f081f.
Solutions to Fix Windows 10 Update Error 0x800f081f
In some cases, the Windows Upgrade stuck because of a connected USB device on the system.
For that reason, it's a good idea to unplug all the USB devices you can, such as Wi-Fi receivers, flash drives, and USB printers. If you still end up getting the Kb4517389 Error 0x800f081f message, then follow the below methods.
Solution 1: Turn Off Developer Mode
As we mentioned, one of the major causes of the error is the Developer mode. Most of the users have reported that their error was fixed after turning off their Developer mode.
Therefore, this is something you should try first. Here's how:
Step 1: Press Window key + I to open Settings. Then, Navigate to Update and Security.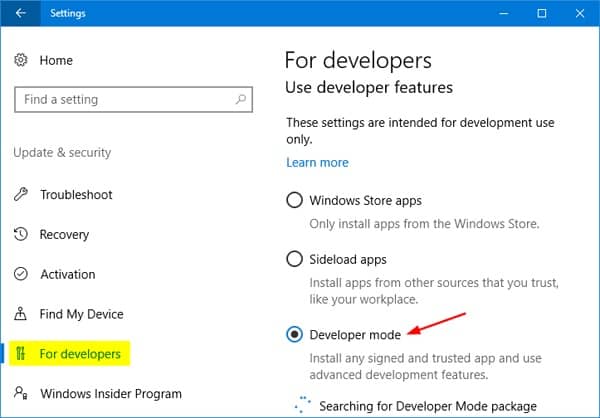 Step 2: Now, on the left-hand side pane, click 'For Developers'. There, check the 'Sideload apps' option. Click Yes when prompted.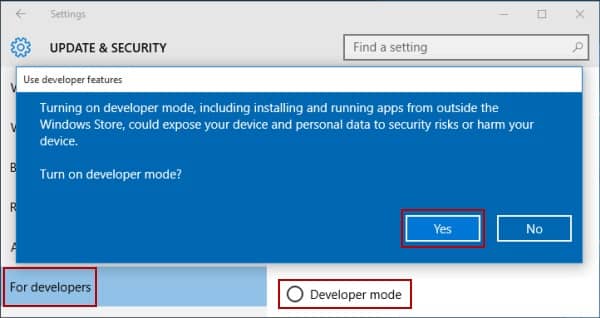 After you've disabled Developer Mode, you'll have to uninstall a developer component to make sure that the mode will not intervene with the update again.
For this, do the following: Window Key + I > Settings > Apps > Click on 'Manage Optional Features' > Locate 'Windows Developer Mode' > Uninstall.
After you have done uninstall, reboot your system. Now try installing the update now.
Solution 2: Use offline .NET Framework installer
Search for the latest offline .NET Framework installer on the web.
Step 1: Download the Installer and start the process. The installation can take some time before the files are ready to install.
Step 2: Follow the instruction and, after the procedure is finished, restart PC.
Make sure that you are using an official Microsoft version from the verified site.
Solution 3: Use Windows Update Trouble-shooter
Windows comes with many built-in troubleshooters that allow you to automatically fix common problems.
So, if you have issues with update error 0X800f081f, you might be able to fix the problem simply by running Windows Update troubleshooter.
This is rather simple and you can do it by following these steps:
Step 1: Press Windows Key + I to open the Settings app. Once the Settings app opens, go to the Update & Security Section.

Step 2: Now select Troubleshoot from the left pane. In the right pane, select Windows Update and click Run the trouble-shooter.

Step 3: The troubleshooter will now start. Follow the instructions on the screen to complete it.
Once the troubleshooter is finished, check if the problem with Windows Update is resolved.
Solution 4: Make sure that .NET Framework is enabled
To download and install updates, you must have all the necessary components enabled.
One of these components is the .NET Framework. If this component isn't enabled, then you may encounter an update error 0X800f081f. However, you can always enable this component manually by doing the following steps:
Step 1: Press Windows Key + S and enter Windows Features. Select Turn Windows Features "On or Off".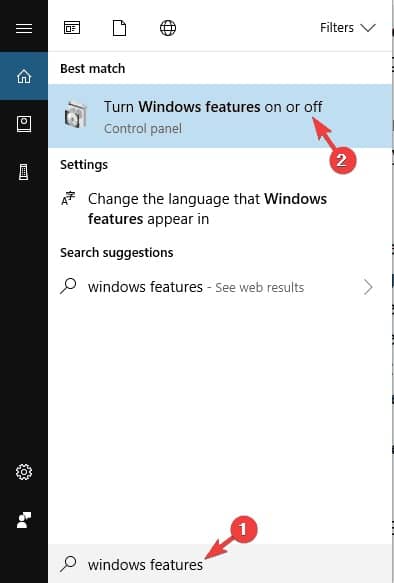 Step 2: Windows Features window will now appear. Make sure that you enable .NET Framework 3.5. After enabling it, click OK.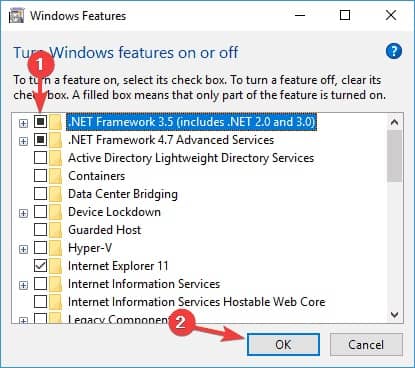 After enabling the .NET Framework, try to perform the update again and check if it works or not.
Solution 5: Install the Windows Update Manually
If the above solutions don't work for you, your last resort would be to install the update manually. There's a website named "Microsoft Updates Catalog" where most of the updates are uploaded so that the users can download and install them manually if need be.
To install the windows update manually, you need to do the following steps:
Step 1: First, you need to visit Microsoft's Update History website to find out the update number. You can easily compare your update history and the information on the website to find the missing updates.
Step 2: Once you find the updated code, it should start with KB and be followed by an array of numbers, you need to visit the Microsoft Update Catalog page.
Step 3: Enter the update code in the search field and the list of results should appear. Keep in mind that the list will show you updates for different architectures, so be sure to select one that matches your system architecture.

Step 4: Once you download the update, simply run the setup file to install it and that's it.
Keep in mind that this process won't fix the error, and instead, it will allow you to circumvent it and download the update.
Ok… so this all about how to fix Windows 10 Update Error 0x800f081f.
***However, as mentioned earlier, during the course of fixing this error, your important documents, files, or folders might get corrupted or lost.
If that happens to you, then don't panic, as we have a solution for this too, i.e., a Windows Data Recovery Software!!!!
One of the Best Windows Data Recovery Software is "Stellar"…………….
You can blindly trust Stellar Windows Data Recovery Software to get back your deleted or corrupted files. This software is the best data recovery that can scan the repositories to replace corrupt and missing files.
Let's take a quick glance about this software………..
Stellar Windows Data Recovery Software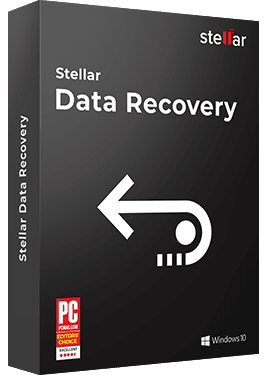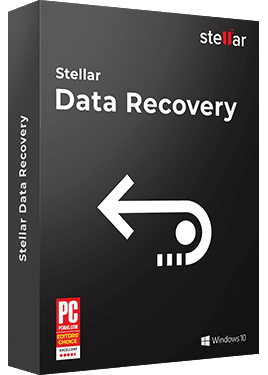 Stellar Windows Data Recovery Software is a secure DIY Windows data recovery and drives monitoring software to recover deleted photos, videos, documents, spreadsheets, email data files and etc.
Being programmed with highly sophisticated algorithmic skills, this Stellar software is potent enough to recover data from a variety of storage media.
Stellar Windows Data Recovery Software is the Most Trusted Data Recovery Software for Windows
Enable easy and quick recovery of lost or erased files and folders on Windows PC, laptop, or any other external storage media. What makes all these features even more spectacular is that you can do all this from the comfort of your office or home whatever.
Quickly recover lost data on all Windows devices & storage media
100% trustworthy, accurate, and effective data recovery software.
Built-in support for data recovery on RAW drive volumes.
Note: This software is available in the both FREE and PREMIUM version. The free version will only help you to scan the corrupted file. While for the recovery of these files you need to go for the premium version.
We hope that the above solutions will help you fix Windows 10 Update Error 0x800f081f easily. These are very easy and effective solutions that you can implement and you will not face any difficulty in installing an application or downloading an update.