Windows 10 New Update Features: YouTube Gets A New Feature on Windows 10
6 min read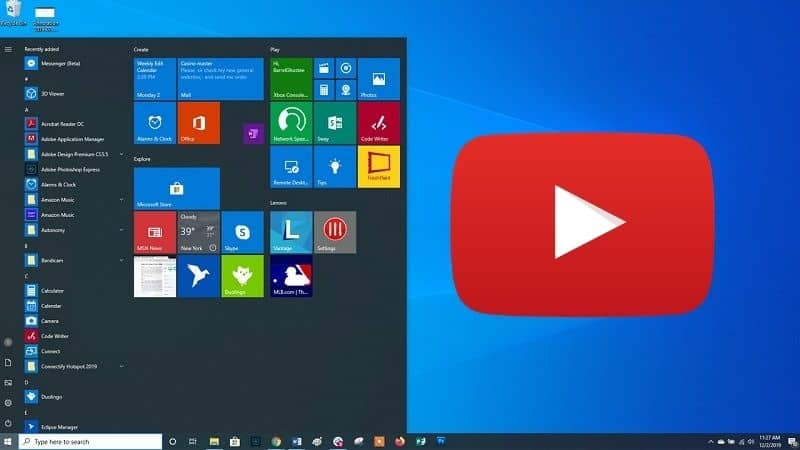 Windows 10 is now on more than 1 billion devices worldwide. Now that the support for Windows 7 is officially over, Microsoft is encouraging more people to either upgrade their PC to Windows 10 to keep it running smoothly and securely or to buy a new computer.
Major refreshes to the OS come about every six months, with the most recent being the May 2020 update. Microsoft's Windows 10 May 2020 Update is now available to download, with several new features to help with productivity, security, and speed.
The update — also known as Windows 10 versions 2004 and 20H1, and formerly referred to as the April 2020 Update (but its date got shifted due to COVID Pandemic) — began rolling out to mainstream users.
Here's what we know about the New Features in Windows 10 May 2020 update, and how to download it to your device. This blog is updated with current information.
How to Update Windows 10, May 2020?
If you want to install the May Windows 10 2020 Edition, then do the following, according to a Windows blog post:
Go to Settings > Update & Security > Windows Update, and select Check for updates.
Once the update appears, select Download and install.
Note: If you don't see the option to download and install, the update may not have rolled out to you just yet, but you should keep checking back over the next few weeks. Or it might be a compatibility issue with your device — the update is available for devices running Windows 10 version 1903 or version 1909.
Once the download is complete and the update is ready to install. You'll get a notification from Microsoft so that you can choose the right time to finish the installation and reboot your computer.
*** Installing Windows 10 New Update Features might leads to the corruption of some data present in the system. If this unfortunate event happens with you, then don't panic, we have a solution for this:
Use a Windows Data Recovery Software. 
Stellar Windows Data Recovery Software is the Most Trusted Data Recovery Software for Windows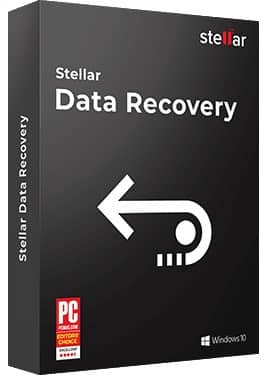 It's a secure DIY Windows data recovery and drives monitoring software to recover deleted photos, videos, documents, spreadsheets, email data files and etc.
New Features in Windows 10 May 2020 Update
The Windows 10 April 2020 Update Features Windows 10 Version 2004 20h1 includes a number of changes, according to Microsoft.
Here we have discussed some features of New Windows 10 Update:
Cloud Download for Reinstalling Windows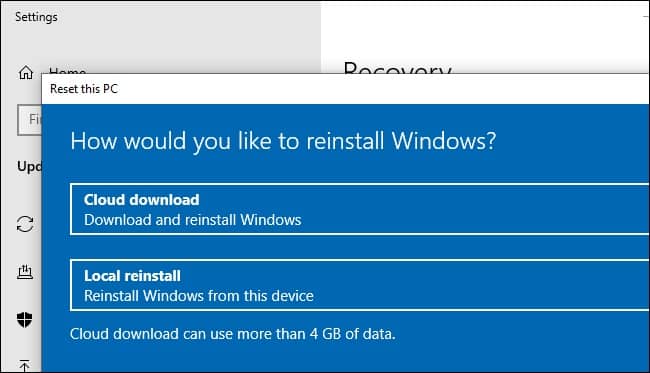 Windows 10 has a new "Cloud Download" option, that you can use while resetting your PC to a default Windows system. When you head to Settings > Update & Security > Recovery and choose to reset your PC and remove everything, you can now tell Windows to use "Cloud Download." Rather than reinstalling Windows 10 from the files on your local system, Windows will download the most up-to-date version of Windows 10 and install it on your system.
This will save time on updates afterward. Previously, the only way to do this was to either update Windows 10 before "resetting" your system or by creating new Windows 10 installation media. Windows 10's Reset feature has become much more powerful.
Bandwidth Limits for Windows Update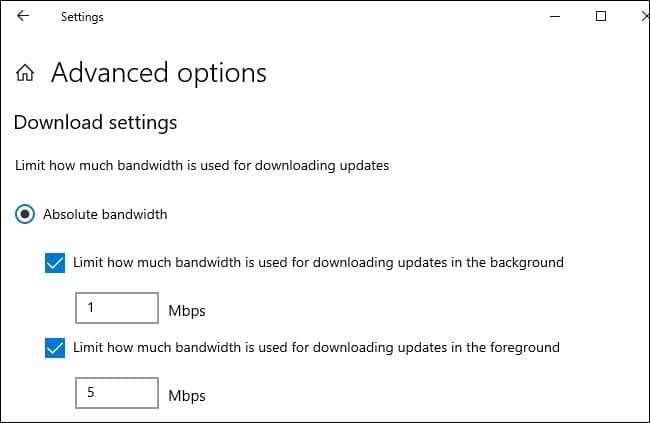 The Settings app now gives you more control over how much bandwidth is used for downloading Windows 10 New Update Features. In older versions of Windows, you can set a bandwidth limit as a percentage of your bandwidth.
Windows 10 version 2004 will let you set a precise "Absolute bandwidth" limit in Mbps for more accurate controlling of downloaded updates. This option was previously available in Group Policy but is now available to everyone in Settings.
To find the update bandwidth limiting options on any version of Windows 10, head to Settings > Update & Security > Delivery Optimization > Advanced options.
Disk Type in the Task Manager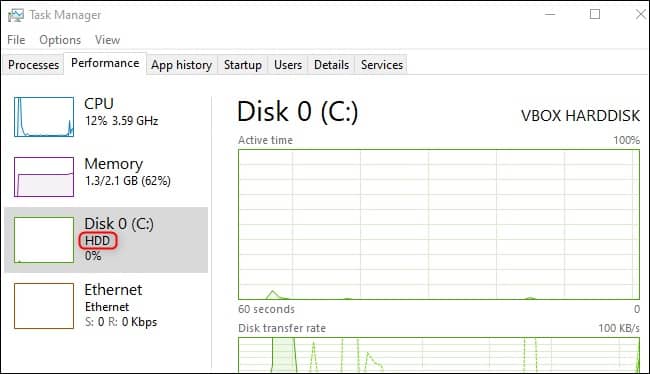 Windows 10's Task Manager now displays your disk type — i.e., SSD or HDD. This makes it easier for you to see what hardware is in your computer. It can also help you tell which disk is which if you have multiple disks in your system.
This information is displayed on the Performance tab. Open the Task Manager (Ctrl + Shift + Esc) and click "More Details" to find it.
Windows Lets You "Make Your Device Passwordless"

Microsoft's new Windows 10 April Update lets you "Make your device password less" with a new option on the Settings > Accounts > Sign-in page. It sounds awesome and futuristic, but really, it's just a new setting that requires everyone on your PC sign in with a PIN or another Windows Hello sign-in method like face or fingerprint unlock.
Safe Mode now works with PIN login, too. If you've set up Windows Hello to sign in with a PIN, you'll be able to use that PIN to sign in to your PC after booting into Safe Mode. Previously, Safe Mode made you enter your account's password.
Renaming Virtual Desktops
Windows 10's virtual desktops, available in the Task View interface that appears when you press Windows + Tab on your keyboard or click the Task View icon on the taskbar, are getting more configurable.
Rather than being stuck with the default names of "Desktop 1," "Desktop 2," and so on, you can now rename them as your wish. Just click the name of each virtual desktop at the top of the Task View interface and give a new name.
As Microsoft points out, you can even use emojis in the place of the name. Just press Windows+. (period) to open the emoji picker and enter an emoji. This emoji panel works in nearly any text field in Windows 10.
Quick Searches in Search Home

When you open the "Search Home" panel by clicking the search box on the taskbar, you'll see new "Quick Searches" options at the bottom. This gives you one-click access to things like the weather, top news, and new movies.
But, the real hype of this Windows 10 New Update Features was for the Windows 10 2004 YouTube new feature. So, let's move to know how YouTube Gets A New Feature on Windows 10 2020 Edition update.
YouTube Gets A New Feature on Windows 10
YouTube's dark theme, often referred to as YouTube's Dark Mode Feature is a setting that replaces the app's default white layout with a dark look. After a new server-side update, the YouTube website finally respects the system-level preference on Windows 10.
In 2018, Google announced a dark theme for YouTube on desktop and mobile. The dark theme of YouTube is more of a dark grey color rather than a straight black color. This looks great on devices with AMOLED panels, such as the Surface Pro X and Galaxy Book.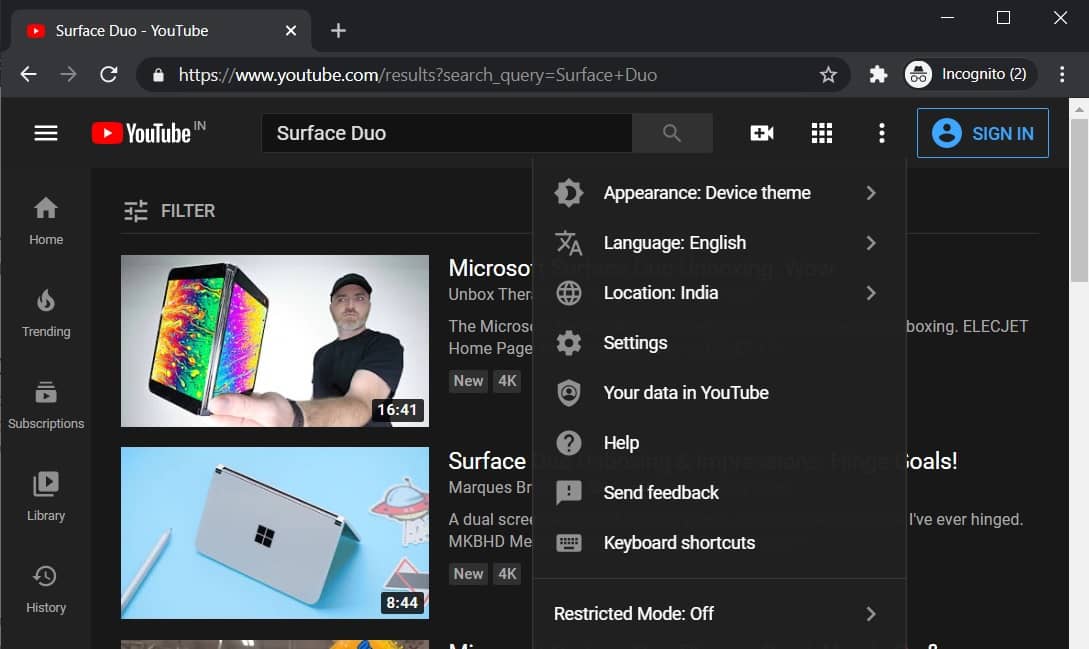 This dark theme is set off by default, with users given the option to "Turn on" the dark appearance from YouTube's settings. But after Windows 10 2004 YouTube update, the web version of YouTube for Windows 10 now follows the user-set device theme if you use Google Chrome.
Now YouTube Gets A New Feature on Windows 10 with a new option called "Use Device Theme" that allows the YouTube web app to automatically update its color scheme to respect the Windows 10's built-in theme preference.
You can choose the "Use Device Theme" under the: three dots menu > appearance> to get the website to respect Windows 10's system-level setting.
So, this was all about what YouTube Gets A New Feature on Windows 10. If you have not installed your Windows 10 April Update yet, then do this quickly to enjoy new features.
Here, we will put an end to this blog………….
Till then, You Might Refer Reading: Windows 10 Update Error 0x800f081f