Follow These Steps to Share Your Screen on Mobile Using Skype
5 min read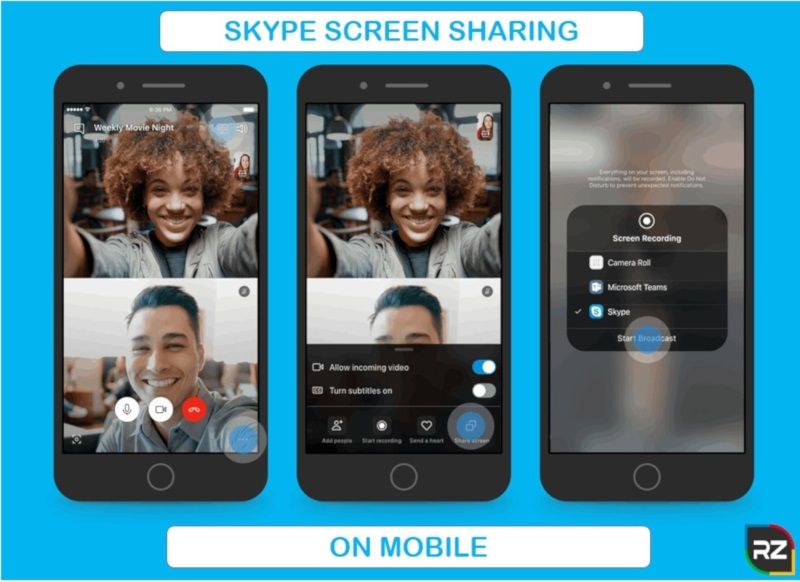 Since June 2019, Skype has let you share your screen on mobile. This was a popular feature on desktop, which led Microsoft to add screen sharing to the Skype mobile app for Android and iOS as well. Therefore, in this article we'll show How to Share Your Screen on Mobile Using Skype.
If you are looking for Free Online Internet calling Apps with additional feature then, Skype is the best App which has additional feature than face chatting.
One of the best feature is to share the screen on the app and even invite your friends, colleague, and family to the conversation. You can also share the screen using Android, iPhone and iPad.
If you are thinking how Can You Screen Share on Skype Mobile, then here is the answer/steps…..
1: start the call by selecting a contact and tapping the phone icon on right corner.
2: call will now stream and just tap on the screen to reveal a three dot icon parked in lower corner and top on it to start the hidden menu.
3: Tap on share the screen icon in the bottom right corner.
4: Tap on the Skype listings followed by Start Broadcast Button.
5: use the device as normal and to stop broadcasting, go back to Skype and tap the Stop Broadcast option.
We, hope you have understood now How to Share Screen on Skype Mobile. Now let's move to the next section to know How to Share Screen on Skype 2019………….
There are many other ways to share contacts on Skype, one of the best is to sharing screen, a great feature through which you can share the live video of what's on your screen, as a mentor, influencer or coach, it is quite useful.
It let you share many types of files, including documents, photos, presentations, and other saved things on your desktop.
On desktop and web – select the screen sharing button
Start your call by selecting a contact and clicking on the phone icon in the top right corner.
Click on the double square share screen icon on the hideaway toolbar. Click on it to proceed.
If the recent chat is opened during your call, click on the three dot more options icons on the hideaway toolbar, and select the Share screen option on the pop- up menu.
The Share Screen interface replaces your call screen. If you have just one screen, then you'll likely only see one window.
For PCs with two or more screens, click on the screen you want to share and then click the Start Sharing button. You'll also see a toggle to stream the PC's sound.
You are now sharing your screen! A small red line appears around the bounds of your selected screen indicating it's currently streaming to your contact.
For PCs with multiple screens, you can switch between screens.
Click the Screen Sharing Options or More Options button – depending on your current view – and then select the Switch Screen or Window entry on the pop-up menu.
To stop sharing, click the double-screen icon and select the Stop sharing option on the pop-up menu. Use this method during calls with the Recent Chats panel closed.
If the Recent Chats panel remains open during your call, click the three-dot More Options icon and select the Stop sharing option on the pop-up menu.
This feature is also used for sharing screen on Skype for business (if looking for How to Share Screen on Skype for Business)
Now, that you know How to Share Your Screen on Mobile Using Skype, let's know about How to Share Screen on Skype Mac or PC.
Skype screen sharing feature allows you to broadcast whatever is on your computer monitor to anyone you're on a video call with. This can include videos, PowerPoint slideshows, or even just an internet browser.
However, it should be noted that sharing your screen takes a bit more internet bandwidth than regular Skype video chatting. You can see if you have the bandwidth to support screen sharing at this Skype support page.
If you meet the requirements, here's how you activate screen sharing with Skype.
Open Skype and start a call with the contact you want to share with
Press the Share Screen button at the bottom right- it looks like Double Square.
Skype will ask to want share your computer's audio or not. And it will share the sound that computer makes, which is great if you're playing a video, but it will be difficult to continue over call.
If you're on a Mac, Skype will require you to grant permission to record your screen. You should be prompted by a message.
If it says that your Mac doesn't have permission to use screen sharing, go to your Mac's System Preferences menu, open the "Security & Privacy" menu, select "Screen Recording" in the left sidebar menu, and give permission to Skype.
Once your screen is being shared, a yellow border will appear on the screen to inform that it is successfully done. The person you're talking to should now get a live stream of your feed. What people on the call see may lag a few seconds behind what you're actually doing.
Note: you can also follow these steps if looking for How to Share Audio on Skype Mac
Adding screen sharing to Skype is just the latest in a long line of improvements Microsoft has made in recent years. And we're sure there's more to come. However, Skype isn't for everyone, so if you're looking to switch you can also go for some best free Skype alternatives.
So, here we put an end to this blog for How to Share Your Screen on Mobile Using Skype. You can recommend us whichever topic you want us to cover next time in the comment box below…………
Till Then, Stay Tuned…………