Stellar Photo Recovery Software [Best Photo Recovery Software Free Download]
1 min read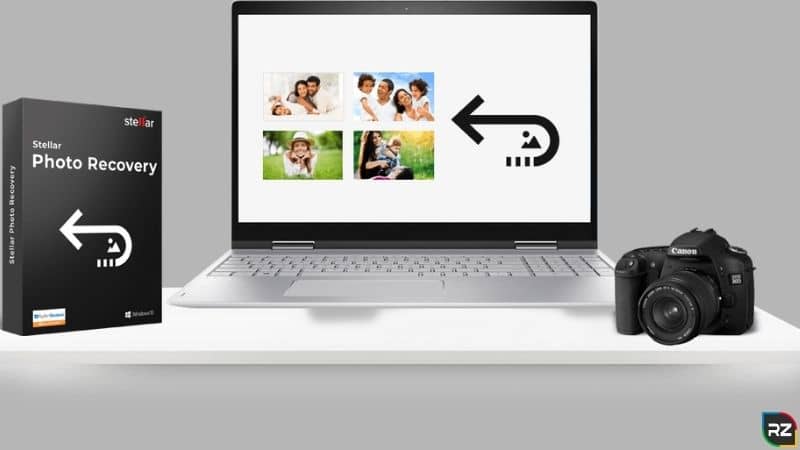 Photos have always been a crucial part of everyone's life. They act as a connection to our past and help us preserve the memories of the people and the events that matter a lot to us. Not only that, but we also capture information and personal stories in the form of photos. However, storing digital photos can sometimes get troublesome. In case they get corrupted or accidentally deleted we might run the risk of losing them forever. Nonetheless, there is nothing for you to worry about, as this tricky issue can be resolved with photo recovery software.
Nowadays, there's a wide selection of photo recovery software that is available in the market. But Stellar Photo Recovery is the best photo recovery software amongst all of them.
Below, we will be briefing you on how it's the best photo recovery utility… however, if in hurry, you can go for direct downloading this effective photo recovery software…
Why Stellar Photo Recovery Software is the Best Photo Recovery Software
Stellar Photo Recovery is an advanced utility for recovering multimedia files lost due to corruption, deletion, or formatting of storage media. The best part is that it reinstates the lost media files with their original camera name, date-time stamp, and file name without hampering their original quality or resolution. It was previously known as Stellar Phoenix Photo Recovery. This photo restoring utility is available for both Windows and Mac-based computers.
The professional edition of this photo recovery software mac and photo recovery software for windows 10 not only restores your photos and videos but additionally repairs damaged or corrupt JPEG/JPG, RAW, TIFF, and other image files of all cameras. Moreover, it also fixes distorted, damaged, and out-of-sync video files of MP4, FLV, MKV, MOV, AVI, and other formats. Let us have a look at its powerful features.
Salient Features of Stellar Photo Recovery App
Photo Recovery: The utility supports the recovery of deleted photos of all formats from Time Machine, Trash, Recycle Bin, hard drives, smartphones, memory cards, CDs, DVDs, camera storage cards, and so on. Further, it also recovers RAW files of camera brands like Canon, Nikon, Sony, Olympus, Fuji, and others.
Video & Audio Recovery: Stellar Photo Recovery even lets you retrieve lost video files of MP4, 3GP, MPEG, AVI, MKV, MTS, DIVX, SVI, and many other formats along with audio files of MP3, RPS, SND, MIDI, OGG and other formats.
Drive Recovery: The Deep Scan feature of this software helps you in recovering photos, videos, and audio files from severely corrupt and formatted memory cards, pen drives, USB flash drives, hard drives, and other volume and storage media.
SD Card Recovery: You can restore your lost photo, video, and audio files from corrupted SD cards, SDHC, SDXC, memory cards, CF cards, memory sticks, and media cards of renowned camera brands like Nikon, Canon, Samsung, Kodak, Sony, Panasonic, and others.
BitLocker-Encrypted Drive Recovery: With the help of the advanced image recovery tools you can recover deleted photos, videos, and audios from BitLocker-Encrypted partitions and drives. However, to begin the process, you need to select the encrypted drive, click 'Scan', and then enter the BitLocker password.
Some More Features:
Drive Image: Stellar Photo Repair Program can create a sector-by-sector image of the whole storage device. This way you can be aware of the bad sectors in the drive or card and protect your photos and videos.
Works with 6TB Storage: Many apps in the market claim to be the best free photo recovery software but fail to function on large capacity storage devices. Stellar Photo Recovery has the potential to smoothly restore your lost photos from a 6TB (and more) storage media.
Save Scan & Resume Later: This photo recovery software lets you cease the scan process any time in between. You can resume the recovery at your convenience as the scanned information remains saved.
The application with its effective functions has become very popular among photographers, videographers, illustrators, and designers.
Technical Specifications
| | |
| --- | --- |
| Operating System | Windows 10, 8, 7, Vista, XP, macOS Catalina 10.15 and below |
| License | Single User License |
| Version | 9.0 |
| Processor | Pentium Class |
| Memory | 1 GB RAM |
| Hard Disk | 100 MB of Free Space |
| Supported Video File Formats | MP4, 3GP, AVI, MPEG, Matroska Video File (MKV), AVCHD Video File (MTS), Divx Encoded Movie File (DIVX), MOI Video File, Video Object File (VOB), OGG Media Player (OGM), 3G2, ASX, MTS, AJP, F4V, VID, TOD, HD MOV, MOV, MQV, M4B, M4V, WMV, MXF movies and SVI. |
How To Use Stellar Photo Recovery Utility? 
You can retrieve your lost photos, videos, and audio files of any format by following these three easy steps:
Select: First, select the drive, volume, or storage media from which you want to restore your files. Click Scan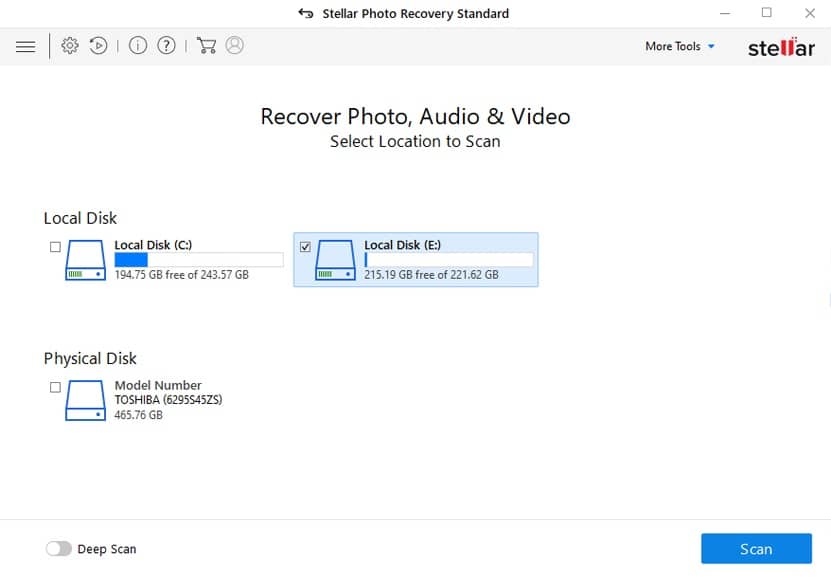 Preview & Recover: After the scan is over, preview the files that are found. Finally, select and recover the required files and save them wherever you want.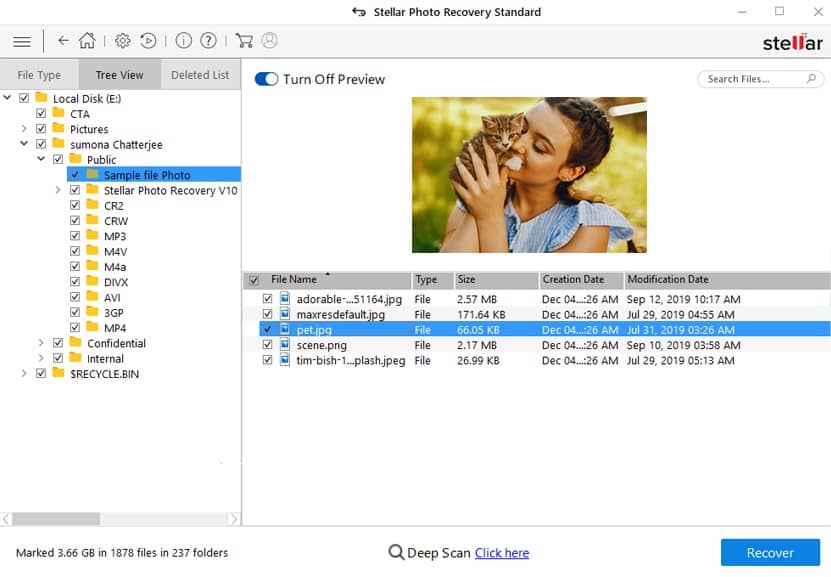 Recover: Select the required audio, photos, videos, and then click Recover to save them at the desired location.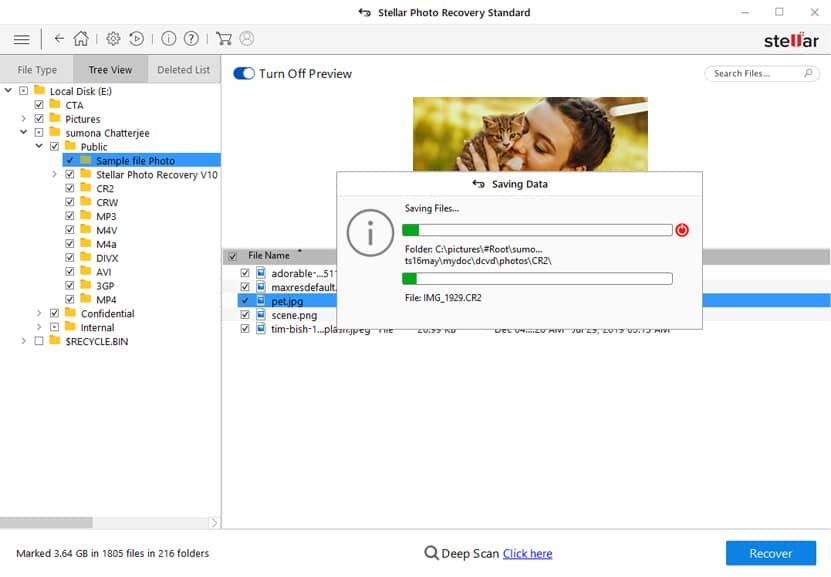 Note: Stellar Photo Recovery Software is available for both FREE & PAID version. With the free version, one can get a preview of recovered files up to 20% of the total video size. However, in order to save the recovered data, one is required to go for the software's licensed version. Means… he/she will have to purchase it.
These steps are applicable for both Windows & Mac OS.
So, are for all… for those who are looking for the best free photo recovery software for windows 10 and for those who are looking for free photo recovery software mac.
How Much Does Stellar Photo Recovery Cost?
Stellar Photo Recovery is a budget-friendly utility that performs a flawless deleted picture retrieval.
For information about the cost of this particular Stellar Software, kindly refer to its Official Website
Stellar Photo Recovery Review [Customer Testimonials]
Have look at what people are saying about this Stellar Photo Repair Software:
I was searching for .mp4 file repair software. I couldn't find a single software which can solve my need. At last, this software did justice to my problem.
RASHIQ MARINE
The software was able to repair the file up to 90%, and the video left with little disruption of 4 mins. It was manageable. Thanks for saving my video.
Kevin Hudd
FAQ
Is Stellar Photo Recovery Software the Best Photo Recovery Software for Windows 10?
Yes… definitely, Stellar Photo Recovery Software is the best image file retrieval app for Windows 10, as very efficiently recovers photos of almost all the photo file formats. Since it is available in a FREE version also… so has been referred to as the top free photo recovery software for windows 10.
What are the limitations of Stellar Deleted Photo Recovery Software Free Download Version?
With the Stellar photo recovery app for pc free download full version, one can recover up to 1 GB data for absolutely free… However, regarding the recovery of more data, you're required to go for its licensed version… means you have to buy it.
Does Stellar Photo Recovery Software support DSLR cameras?
Yes… Stellar Phoenix Photo Recovery Software supports image retrieval from all the major DSLR camera brands, like Kodak, Canon, Nikon, Panasonic, Fujifilm, Pentax, Epson, Sigma, Olympus and etc.
Can I recover permanently deleted photos or videos from my computer?
Yes… of course, you can restore or recover permanently deleted photos and videos on your computer system. Powered by numerous enhance algorithmic skills, this utility or software very effectively works, in the case of the emptied recycle bin and trash. Moreover, the software can recover data, deleted even by using Shift + Delete key, system cleaner app and etc.
Is Stellar Photo Recovery Software a completely free photo recovery software?
No, it's not completely free photo recovery software… As you can recover only 1 GB files up to free. Regarding the recovery of more data, one is required to go for its licensed version. This means he/she needs to buy it.
Conclusion
Stellar Photo Recovery is a robust DIY application that is trusted and recommended by us as well as the users who got benefitted from it. It is a genius photo recovery utility that is backed by an array of splendid features. It can effectively recover an unlimited amount of files by thorough scanning of drives. If you are seeking a medium to recover your lost photos or videos without any hassle, Stella Photo Recovery undoubtedly will be the best choice for you.
Additional Reading: Stellar Video Repair Software